You Might Like
On FacilitiesNet
« Back to Facilities Management News Home
Snow Plows Designed to Increase Productivity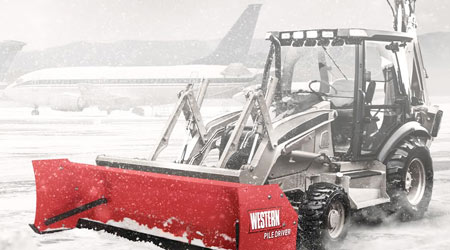 Western Products, manufacturer of WESTERN snow and ice control equipment, unveiled two new PILE DRIVER pusher plow models at the 2019 NTEA Work Truck Show. The new 8- and 10-foot containment plows feature a steel trip-edge, interchangeable attachment plates and high-quality paint.

Customer feedback indicated that a steel trip-edge was among the most desired features in a pusher plow application. The new PILE DRIVER trip-edge design gives operators a clean, down-to-pavement scrape by allowing the cutting edge to move over contours and obstacles. The steel trip-edge is constructed with four extension springs and reinforced with two double ribs at the trip springs to handle heavy loads and stresses. Six vertical support ribs and robust side support posts provide strength and protection for heavy-duty performance on large accounts. New bolt-on attachment plates offer flexibility for quick and easy configuration for skid-steers, tractors, backhoes and wheel loaders. Whereas in the past plates were welded to the pusher moldboard requiring different pusher plow models for each machine, the new plates are bolted to the moldboard, providing the flexibility to attach the pushers to various types of equipment within a fleet.

"Pusher plow applications are the toughest plowing jobs out there, and we've raised the performance bar with these new plows," said Doug Clark, WESTERN product manager. "By adding a steel trip-edge, our customers can tackle those jobs with more confidence than ever."

The new PILE DRIVER pusher plows are 32.5 inches tall with a 63-degree attack angle, and they feature new, high-quality enamel paint that resists salt and UV rays for improved longevity and corrosion resistance. A top-mounted, rubber back drag edge is available as an accessory and allows operators to pull snow away from loading docks, doors and other tight spaces.
More From 7/11/2019 on FacilitiesNet