« Back to Facilities Management News Home
Redesigned Box Cutter Enhances User Safety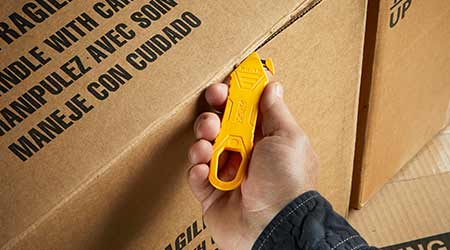 Accidents happen on a jobsite, so OLFA's new safety knife aims to reduce the likelihood of job-related cuts and laceration injuries, providing a safer work environment. The new OLFA SK-15 Disposable Concealed-Blade Safety Knife protects workers with an enclosed cutting solution that doesn't require blade changing – when the blade gets dull, they simply throw the knife away and replace it with a fresh one.

Designed for warehouse, distribution and food safety environments, the SK-15 reduces user fatigue with an ultra-sharp stainless steel blade that requires less pulling force per cut. The durable plastic handle has blunt plastic piercing tips on each blade end to grab materials and initiate cutting while also encasing the blade ends.

"It's protocol in many facilities for employees to never touch or change a sharp blade, and the SK-15 is ideal for these types of environments," says OLFA Brand Manager Cassie Donnelly. "The SK-15's disposability and protected blade channel significantly reduces the risk of blade exposure on the jobsite."

The compact, durable knife features unique flow-through cutting channels that reduce friction to allow for cutting materials up to 4 mm (0.16 inch) thick. Additionally, the dual-sided blades extend the life of this safety knife for twice the work of single-blade competitors.

The National Sanitation Foundation (NSF) certification is a hallmark of the knife's design, making it a sanitary choice for a food-handling environment.

Like all OLFA cutting solutions, the SK-15 is designed to create safety and efficiency on the jobsite. The handle has an integrated packing tape-splitter nose for quick and easy cutting. The large, oversized tethering loop allows the tool to be hung from a hook or tethered to a lanyard for safety.
More From 7/16/2019 on FacilitiesNet