« Back to Facilities Management News Home
Mobile Power Distribution and Versatility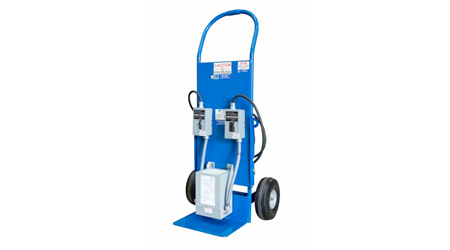 Larson Electronics has announced the release of a 15 KVA temporary power distribution station for industrial projects. The power distribution unit accepts 480V three phase in the primary side and provides 240D/208-120V AC three phase on the secondary side and features a kick-stand dolly cart for easy transportation.

The MGL-480V-15KVA- 240V.120-1X60A temporary power distribution system gives operators the ability to power their 240D/208-120V equipment from a single system. On the primary side, operators connect 480V line-in power with a 25 foot #10 SOOW cord equipped with a NEMA L16-30P cord cap. Power is brought to a NEMA 3R 30-amp 480V three phase primary disconnect, which contains three 25-amp time delay fuses and passes 480V three phase through to the transformer. One, 60-amp 277/480V 560R7W pin/sleeve receptacle for three-phase 277/480V equipment is located on the secondary side for connection and protected by a weatherproof cover.

For maximum portability in industrial facilities, the NEMA 3R rated temporary power distribution station is mounted on a steel dolly cart with run flat tires. The steel cart and frame are powder coated for durability and resistance to corrosion and other harmful, outdoor elements. A kick stand is located at the back of the unit for increase stability during use. Applications for the portable power distribution system include: construction sites, MRO, plant operations, maintenance, repair, shipyards, concerts, events, warehouses, stadiums and more.
More From 10/16/2018 on FacilitiesNet