« Back to Facilities Management News Home
Evaporative Cooling for Hazardous Worksites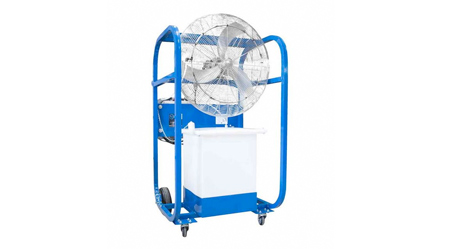 Larson Electronics has announced the release of a portable explosion proof evaporative cooling system for use in hazardous work environments. This air chiller features a non-sparking fan and dry mist technology to cool areas that do not have access to traditional air conditioning.

The HAF-AC-30 explosion proof air chiller is rated for use in Class I, Division 2 and Class II, Division 2 rated work environments and comes equipped with a 34-gallon tank with two separate water filters. This durable cooling unit can cool work environments for up to eight full hours and is equipped with NEMA 4X boxes and switches. This cooling system measures 36" wide by 39" deep by 66" tall with a 30" fan and eight spray nozzles that can reach an evaporation zone of 5 feet to ten feet.

Larson Electronics' explosion proof cooling system automatically shuts off when the water reservoir is empty. The fan in this unit runs at 8,723 RPMs and can drop temperatures by 20 to 30 degrees Fahrenheit. This 175 lbs. unit can cool an area of roughly 3,500 square feet and operates on 120V or 220V AC with an amp draw of only 6.62 on a 120V AC system. This unit is equipped with 20 feet of 16/3 SOOW cord fitted with an explosion proof cord cap and is suitable for use at construction sites, for tank cleaning, and more.
More From 2/15/2019 on FacilitiesNet