« Back to Facilities Management News Home
Emergency Notification System for Facility Safety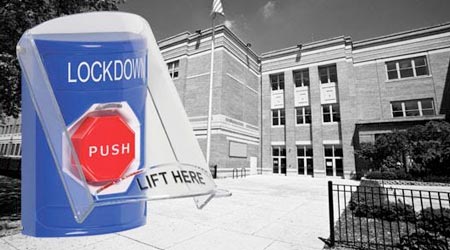 Active shooter incidents are unexpected and evolve quickly. In the midst of chaos, urgency to act swiftly, decisively and without hesitation is crucial to saving lives.

When and where an active shooter strikes may not be predictable, but the preparation needed to effectively respond certainly is. Lockdown procedures must be created or updated to include this complicated threat.

The purpose of a lockdown is to provide an orderly way to minimize accessibility to areas of buildings and rooms, to reduce the risk of danger to those on the site. STI's easy-to-use lockdown Stopper Station push button allows a user to perform a calm, effective and confident action when needed, helping to safely secure the operation of a public building under duress.

The multipurpose push button is available in red, green, yellow, white or blue with several switch options. Its unique design helps stop accidental activation while allowing legitimate activations. Offered with lockdown or customized labeling (in virtually any language).

Optional illumination can be used to indicate activation or allows users to easily find the STI Stopper Station push button in a dark area. The 12-24 volt LED insert illumination choices are red, green or white.

Several tough polycarbonate protective covers with or without siren are available. Buttons are listed to UL and cUL standards, ADA Compliant.
More From 10/25/2018 on FacilitiesNet