« Back to Facilities Management News Home
Embracing Humanity, Designer Makes Workplaces Hum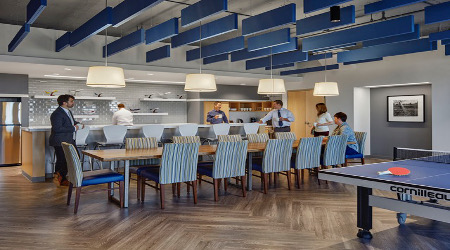 Just ask Katherine Berger, a certified interior designer with the leading U.S. architecture, art, and advisory firm Svigals+Partners. She explains how the design of a workplace is critical to effectiveness, and how a focus on humanity in the design phase leads to breakthroughs during the life of the company or institution. Most importantly, Berger tells clients, the key to unlocking employee potential is to create productive playgrounds. — not mere work space.

"When employees feel engaged in a space and full of pride and community sensibility, they're much more productive and creative," says Berger, who holds an NCIDQ credential. "In the future, organizations need more creative thinkers, and effective workplace design support and enhances creativity in many ways." One of those is the Svigals+Partners concept of productive playgrounds, defined as any kind of environment that facilitates progress and inspiration while allowing new ideas to flourish.

These principles behind effective workplaces and productive playgrounds, says Berger, include:

Choice. By including a variety of workspace options, the employer best empowers employees to contribute to find meaning and purpose. "This can be as simple as offering spaces that allow workers to control their level of sensory stimulation," says Berger. "Some may work more effectively with quiet and privacy, while others may thrive in a more social environment." A choice of work settings also lets employees collaborate more fluidly — and in ways that won't disrupt others.

Belonging. Community and belonging are interconnected ideas, an important architectural principle espoused by Berger and her colleagues at Svigals+Partners, New Haven. "Workplaces should make people feel comfortable and authentic, too," says Berger. This often means including informal spaces with a homey feel, and by specifying adjustable, ergonomic furniture to fit a range of sizes, needs and preferences. "We also integrate the elements to reinforce the company brand and culture throughout the space, not just in the lobby," she adds.

For examples of these principles in action, Berger points to a new workplace project currently under construction for a pharmaceutical company headquartered in New Haven, Connecticut. For the growing organization, the Svigals+Partners team designed an approach to working with an emphasis on choice — more options in where to work is seen as empowering employees and cultivating that essential sense of belonging. Openness and daylight is also a key goal, creating transparency with glass partitions, for example, so workers feel visually connected and close even at their workstations and in the leadership's offices.
More From 7/24/2017 on FacilitiesNet