« Back to Facilities Management News Home
CASE STUDY: Office Infuses A Work-hard Environment With Fun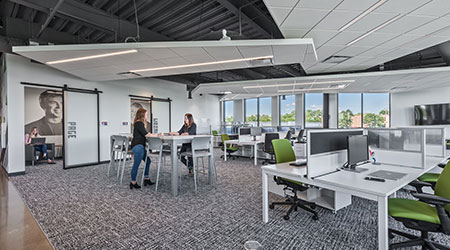 Leading EDJE wanted an office that embodied a work hard, play hard nature, and DesignGroup delivered a design that embodies the unique atmosphere to make it happen. The $1 million project of more than 7000 square feet was completed in spring 2020.

Leading EDJE selected a 3rd floor corner, L-shaped suite with balcony and great views of Dublin and the Scioto River. The suite opens directly off the elevator to the entry hub featuring a coffee bar and comfortable living room style furniture offering a warm, welcoming first impression to guests and potential clients.

The Café Hub, a primary design feature, showcases a large sculptural u-shaped bar with a reclaimed wood counter and distressed corrugated metal equipped with four taps encouraging a social and collaborative culture. It is a place for all-hands meetings, after hours special events or the occasional touchdown spot for employees and guests. Directly across from the bar is the training room which has two large garage doors that open to accommodate overflow and breakout session opportunities.

"The suite is designed with a variety of space types allowing employees to choose how they want to work and includes flexible meeting rooms, private offices, soft seating and an open workstation zone," said Nikki Wildman, AIA, LEED AP BD+C associate principal at DesignGroup. "We designed the spaces to be flexible and scale up as the company continues to grow."

The furniture provided an opportunity to visually infuse the brand in the space. The table in the board room has the Leading EDJE logo branded in the center and all the chairs in the Café Hub are also branded with the Leading EDJE logo. The huddle rooms have a translucent film over them to create a sense of privacy and integrate a variety of fun sayings and themed room names to bring humor and levity to the space.
More From 12/9/2020 on FacilitiesNet