« Back to Facilities Management News Home
Bottle-Free Water Coolers are Environmentally Friendly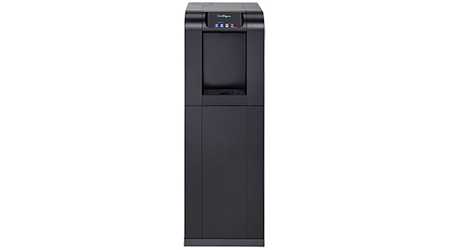 Culligan International is introducing a new line of Bottle-Free Coolers to help solve hydration problems in the office. The Culligan Bottle-Free Coolers ensure offices never run out of filtered water, are less expensive than constantly refilling bottles and better for the environment.

"Our new Bottle-Free Coolers revolutionize healthy water options in the breakroom," said Larry Holzman, senior vice president of North American Franchise, Culligan International. "By providing systems with multiple water options, including fizzy water, we can help create a healthier, more productive workplace with happier, hydrated employees – all while being more affordable and better for the environment."

Offices nationwide can save time and money with new Bottle-Free Coolers from Culligan. By removing bottles from the process, employees no longer have to schedule bottle refill visits and instead have unlimited filtered water available for pennies per glass. This change in the breakroom helps the environment, reducing the number of bottles in the landfill as well as the amount of fuel required for transport and to create the bottles themselves.

The new Bottle-Free Coolers work to build a better breakroom, starting with healthier water. Each option in the new line comes with multiple filters, including sediment and carbon filters to match your water needs. The Bottle-Free Coolers are available in four different models, which provide three levels of filtration for healthier water:


Culligan Bottle-Free Cooler – With a modern, free-standing design, the Culligan Bottle-Free Cooler provides the convenience of on-demand hot, cold, room-temperature and sparkling water to the office. With an energy saving mode, built-in leak detection and automatic water shut-off, the Culligan Bottle-Free Cooler offers innovation and reliability.
Culligan BluSoda – Built in a space-saving, modern design with high-quality stainless steel and aluminum, the Culligan BluSoda provides individuals with the option of cold, ambient, hot or sparkling water. Using dry cooling technology to chill the water faster, with zero-impact on the environment, it helps uphold corporate responsibility within the breakroom.
Culligan Wave – State-of-the-art performance in an attractive Italian design, the Culligan Wave was developed with the highest level of quality, design and technology that can serve the entire office. The Culligan Wave offers cold, sparkling, room temperature or hot water at the touch of a button. With ice bank cooling technology, the Culligan Wave offers high performance with energy savings, and when in energy-saving mode operates at 75 percent of full energy capacity.
Culligan BluSoda & Wave Box – An ideal under the counter solution with space saving benefits, the Culligan BluSoda & Wave Box offers two high-quality stainless steel options, delivering cold, sparking and room temperature water through two taps at the sink. As an understated presence in the office, this option provides ice bank and dry cooling technology to create a great addition in any office breakroom.

"Providing healthy water for employees can change the overall tone of the office," said Holzman. "At Culligan we are continually striving for water solutions that enrich the lives of our customers. This includes the office, where many spend 40 or more hours a week."
More From 4/18/2019 on FacilitiesNet