You Might Like
On FacilitiesNet
« Back to Facilities Management News Home
Healthcare Facility Earns LEED Gold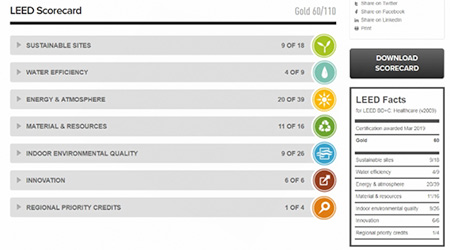 Hoefer Wysocki, an architecture, planning, design and clinical technology consulting firm is pleased to announce that Joint Base San Antonio-Lackland (JBSA) Reid Health Services Center has achieved Leadership in Energy and Environmental Design (LEED) Gold certification. In collaboration with design-build partner JE Dunn Construction, the new two-story, 70,088-sq. ft. medical clinic includes 19 departments and offers primary care, pharmacy, clinical labs, and radiology services to more than 86,000 trainees in 130 units annually.

The new facility replaces a clinic originally built in 1967. The new clinic embraced evidence-based design (EBD) principles to create a patient-centered environment, improve the quality and safety of health care, develop a standardized, flexible and positive work environment for providers, minimize its environmental footprint, and reduce life-cycle costs.

Initially designed to LEED Silver standards, the design-build team of JE Dunn, Hoefer Wysocki, BranchPattern, Bob D. Campbell & Co., Land3 Studio, and BHC Rhodes brainstormed early and often throughout all phases of design and construction to incorporate additional sustainable elements.

"We realized early on that we could potentially exceed a LEED Silver rating," explained Ashely Eusey, P.E., LEED AP, GGP, Hoefer Wysocki's lead sustainability design manager. "Rather than working only with J.E. Dunn in the early phases of the design, we pulled in all of our consultants and began brainstorming ways to make this facility more sustainable. It was truly a team effort throughout the entire project, and vetting sustainability during design and early in the construction phase allowed greater flexibility."

The U.S. Green Building Council (USGBC) developed the LEED Scorecard to provide a framework to design and construct healthy, highly-efficient buildings that also provide long-term cost savings. The LEED Scorecard is the most widely used green building rating system in the world – a building's LEED certification is a globally recognized symbol of sustainable achievement.

The Lackland Reid Medical Clinic Replacement scored 60 out of a possible 110 points on the USGBC's Scorecard, resulting in the LEED Gold certification.
More From 4/18/2019 on FacilitiesNet