« Back to Facilities Management News Home
Flooring Maker Recognized for Innovation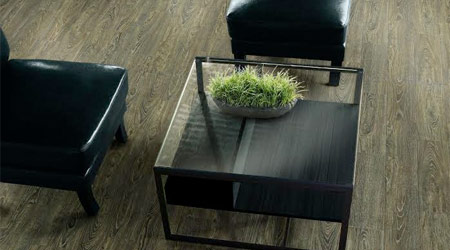 Armstrong Flooring is proud to announce that three products – DECORART Rejuvenations with Diamond 10® Technology, Alterna Plank Engineered Tile with Diamond 10 Technology and Appalachian Ridge Solid Hardwood with Diamond 10® Technology – were awarded the prestigious GOOD DESIGN 2018 Award.

Each of the award-winning floors features Armstrong Flooring's exclusive Diamond 10 Technology which offers powerful scratch, stain and scuff protection — a strong system infused with cultured diamonds to form a traffic-and-wear resistant barrier.

The GOOD DESIGN Award is conferred annually by The Chicago Athenaeum: Museum of Architecture and Design together with The European Centre for Architecture, Art, Design and Urban Studies. The award emphasizes quality design of the highest form, function and aesthetic. GOOD DESIGN covers new consumer products, graphics, and packaging designed and manufactured in Europe, Asia, Africa, and North and South America. The trademarked award program was founded in Chicago in 1950 by architects Eero Saarinen, Charles and Ray Eames and Edgar Kaufmann, Jr.

"Design, performance and innovation have long been at the core of the Armstrong Flooring brand and we are honored to be recognized," said Debra Lechner, Vice President-Marketing. "Our goal is to be a leader in innovation and design and to continuously exceed our customers' expectations today and in the future."

For 2018, over 900 new products and graphic designs were selected from over 47 countries ranging from new electronics, medical equipment, building products/materials, furniture, textiles, industrial, environments, kitchen/appliances, floor and wallcovering, tabletop, household products, sports and recreation as well as graphics, branding and packaging, among others, from Europe, Asia and the Americas.

Armstrong Flooring's 2018 winning products are:


DecorArt Rejuvenations Heterogeneous Sheet with Diamond 10 Technology: A versatile range of updated designs that deliver enhanced realistic visual impact and long-lasting performance to contract interiors. New visuals with exquisite detailing, combined with Armstrong Flooring's exclusive Diamond 10 Technology coating, take the brand's trusted heterogeneous sheet vinyl solutions to the next level of style and performance.
Alterna Plank Engineered Tile with Diamond 10 Technology: Longer lengths and enhanced durability are joined together in a bold collection of engineered tile that offers a true alternative to ceramic and porcelain with the added scratch resistance of Diamond 10 Technology.
Appalachian Ridge Solid Hardwood with Diamond 10 Technology: Scraped and brushed artisan effects with gentle sanding create a refined, tactile canvas, brought to life with carefully selected stains and color washes. Made in the USA from 100% solid Appalachian hardwood, for strength, stability and quality craftsmanship that will last a lifetime. Appalachian Ridge combines an unparalleled visual with the power of Diamond 10 Technology for a beautiful floor that can really be lived on.

The 2018 Good Design Jury was held in New York and Los Angeles and was composed of renowned international specialists with wide design experience, guaranteeing the high quality and high level of the competition.
More From 12/26/2018 on FacilitiesNet