« Back to Facilities Management News Home
New Online Sustainability Calculator Quantifies the Environmental Benefits of Toter's Waste Carts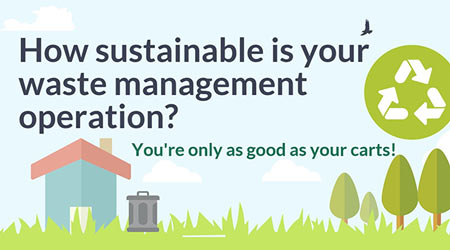 As part of its continuing efforts to provide customers with the tools and information they need to demonstrate the value and benefits of smarter waste cart purchasing, Toter®, a Wastequip® brand, and the nation's leading manufacturer of products used in the collection of waste, recycling and organics, has added a new sustainability calculator to its website. The new calculator helps customers and prospects, including municipalities, quantify the environmental benefits of buying Toter carts. The simple calculator, found atwww.toter.com/about/sustainability/sustainability-calculator, allows users to enter the number of carts they need to purchase and breaks down sustainability gains in several categories, including: plastic savings, benefits from the longer average service life of Toter carts and cart delivery savings.
A recognized leader in sustainable manufacturing, Toter uses 14 percent less plastic overall versus injection molded carts and up to 50 percent recycled plastic (based on a 96-gallon cart), resulting in a substantial reduction in petroleum consumption. The company also pays attention to seemingly small details, such as cart delivery requirements, to enhance sustainability. Toter carts are stackable up to seven high and require no packaging, whereas injection molded counterparts can only stack two high. This means that three times as many Toter carts can be transported per truckload, resulting in significant reductions in fuel consumption and emissions.
Service life is another excellent opportunity for savings. Many collection contracts result in the purchase of new carts every contract period (typically five years). However, because Toter carts also feature the industry's longest-lasting warranty, covering municipal trash cart bodies for 12 years and other components for 10 years from the date of purchase, those purchasing direct from Toter can more than double the purchase time interval, buying a cart once every 15 to 20 years, reducing consumption. More information on Toter's durability and industry-leading warranty can be found at.
"Not all carts are created equally, so your cart choice can have a significant impact on your carbon footprint," said Jim Pickett, vice president of sales for Toter. "Toter has always been committed to leading the waste management industry in our efforts to reduce material consumption, to use recycled content to increase service lifecycle and to combine the highest levels of toughness, durability and sustainability. The pressure to go green has never been greater, and we make it easy for our customers to do so. This calculator will help them demonstrate the positive environmental results of our joint efforts to their customers and taxpayers."
For more information, visit www.toter.com or www.wastequip.com.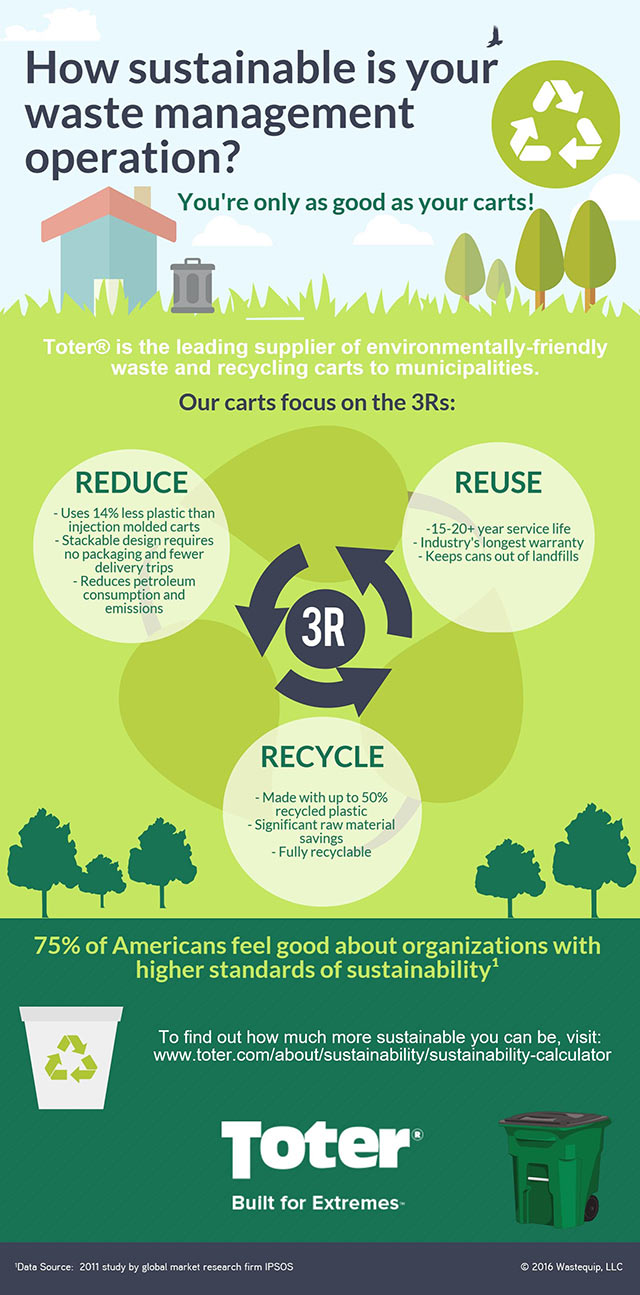 More From 9/26/2016 on FacilitiesNet