« Back to Facilities Management News Home
Zeller Realty, ComEd, Cypress Envirosystems, JLL: Project Upgrades Tenant Experience at Chicago Office Building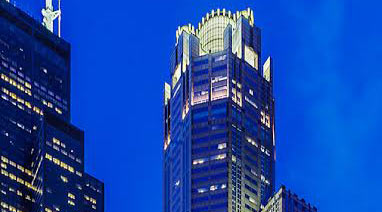 Chicago — The illuminated crown at the top of 311 South Wacker (see photo) is prominently featured in the Chicago night skyline. The 1.3-million-square-foot Class A commercial office building was built in 1990 and acquired by Zeller Realty Group in 2014.
The new owner significantly upgraded the infrastructure and amenities to provide an upscale tenant experience, committing to projects that aligned with its environmental sustainability goals. Total project cost was $878,197.
With incentives from the ComEd Smart Ideas Energy Efficiency Program, Zeller upgraded the building's energy management system and common-area lighting. It installed and connected 944 wireless pneumatic thermostats to an Internet-enabled energy management system that tracks and controls electricity use through a computerized network of monitors and sensors.
As part of the building retrofit, 296 inefficient T12 fluorescent lamps were replaced with T8 fluorescent lighting, and 95 high-wattage PAR lamps were replaced with LED lights. The new lighting offers a decrease in electricity use as well as improved light quality, uniformity, output, color and appearance. Additionally, the new lights have a much longer life, which creates operational maintenance savings.
Zeller Realty received $402,318 in ComEd Smart Ideas incentives when it implemented the energy management system enhancement and lighting retrofit projects. The annual cost savings from 311 South Wacker's reduced electricity use is an estimated $329,000.
Facility management gained the ability to use real-time data to make operational energy savings decisions. The new LED lighting is visually appealing and saves energy. Additionally, state-of-the-art technology investments are appealing to potential tenants.
According to Cypress Envirosystems, the project used two new cutting-edge technologies: Cypress Envirosystems' wireless pneumatic thermostat, which the company says is recommended by the GSA and DoE as a best practice for buildings with pneumatics, and JLL's IntelliCommand cloud-based management system.
"311 South Wacker is the first major office tower in Chicago to install wireless pneumatic thermostats connected to a cloud-based intelligent building system. A total of 944 thermostats were installed by our engineering team in record time," said Consolato Gattuso, vice president of technical operations, Zeller Realty Group. "The system allows sophisticated algorithms to utilize real time data to make operational energy saving decisions."
More From 6/16/2016 on FacilitiesNet