CPower - Healthcare Facilities
Webcast: Learn How Energy Assets Can:
Provide Significant Savings, Generate Revenue, & Maximize ROI. Wednesday, October 9, 2019 at 11 AM ET
SPONSORED
Avidbots Corp. - Branded Feature
How an Autonomous Floor Scrubbing Robot Is Revolutionizing Floor Cleaning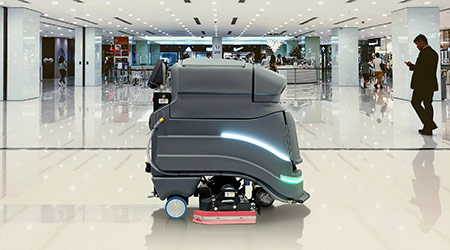 Technology has turned the traditional way of doing business on its head. Companies can now market and sell to customers around the world, leverage a virtual workforce, and streamline their operating and production procedures with the click of a button.
Likewise, business leaders in the facilities management space are looking to technology to increase productivity while lowering costs and improving the customer experience. These upgrades include everything from smart lighting, to HVAC technology, to automated cleaning systems.
For innovative facilities managers looking to streamline their cleaning operation, robotic commercial floor cleaners are increasingly becoming the best option. With safe and simple operation and data-driven insights into the cleaning operation, robots such as Neo from Avidbots are revolutionizing floor cleaning.
But as is often the case when transitioning from legacy methods to more high-tech solutions, adopting robotic technology in the workplace is not without its challenges. From convincing stakeholders of the potential benefits of the new technology to revamping their cleaning strategy to make the best use of their labor force, businesses must rethink the traditional way of doing things.
"You can't have the humans watching the robot work because that isn't going to give you your ROI," said Craig Rudin, CEO of Superior Solutions Group, a GDI company. "You have to be smart about how you deploy the robot, and what the humans do while the robot's doing its thing."
Overcoming these growing pains has paid off for Rudin and many other Avidbots customers around the world. These businesses are not only seeing more consistently clean floors; they're experiencing increased productivity and profitability while freeing up their human staff for more important, rewarding tasks.
In their latest eBook, Avidbots—creators of Neo, the autonomous floor scrubbing robot — sat down with four customers at ISSA 2018 to learn how they transitioned from legacy cleaning solutions to a robotic one. In the book, the business leaders from industries including education, retail, commercial real estate, and food service revealed their drivers to automation, the challenges they faced in adoption, and the ultimate success they found with Neo.
The eBook from Avidbots lifts the veil off of what it's like to implement a cleaning program using an automated floor scrubber. You'll get a deep-dive into how real-world facility managers found an edge over their competition by automating their cleaning operation. You'll also learn how the productivity metrics Neo provides has enabled these facility managers to gain unprecedented insight into their cleaning operation, transforming the way they run their business.
"Automation is really the next holy grail for us," said Rudin.
Avidbots, the leader in commercial robots, is dedicated to bringing robots into everyday life to expand human potential. Avidbots has deployed hundreds of robots across five continents and is revolutionizing the cleaning programs at Rochester Institute of Technology, Singapore Changi Airport, Paris Charles de Gaulle, Yorkdale Mall, and many other innovative businesses.
To read more about how Avidbots customers are using Neo to maximize human potential and drive ROI, download the eBook today.