SPONSORED
Elkay Manufacturing Company - Branded Feature
Hands-Free Hydrating Experience: New Elkay Smartwell Touchless Countertop Beverage Dispenser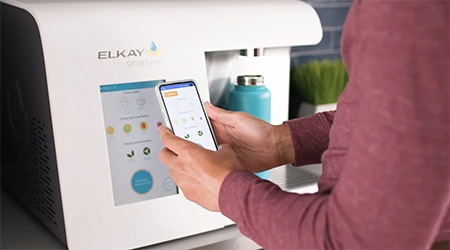 As the pandemic begins to loosen its grip, facility managers and office coordinators across the country are preparing for when buildings and offices can begin to safely reopen. With that, comes the challenge to provide a safe and healthy working environment for staff, employees and guests.
Facility managers need to rethink and introduce innovations that provide a safe space to work. For example, gone are the days when employees could all gather around the water cooler one by one filling up their bottle.
Elkay, the leading manufacturer of award-winning water delivery products, has just the solution you are looking for. With more than 50 years of experience in manufacturing water delivery products, including the award-winning ezH2O commonly found in school and at airports, Elkay is proud to lead the way with the next generation of water solutions.
Launched in April 2021, the Elkay Smartwell® Touchless Countertop Beverage Dispenser is a unit that dispenses delicious, custom beverages in a fun, eco-friendly way.
Hygienic and Hands-Free
The Smartwell Countertop allows facility managers to give employees and guests a hands-free, hydrating experience that is both hygienic and sustainable. The pandemic has impacted the market for traditional water-dispensing products, propelling demand for more sanitary and hygienic features like hands-free options in commercial, public and residential spaces.
The need for more hygienic features will continue to rise as people make personal choices for health and wellness and as commercial spaces transform to accommodate the public need for more sanitary facilities. The Smartwell Countertop is a great solution that offers touchless activation by scanning a QR code through a mobile device. Staff can also monitor units, track touchless dispense data and manage orders from anywhere through the mobile portal.
Convenient and Compact
The brand-new countertop unit is great for smaller businesses or as a secondary dispenser. The unit is designed to fit under standard kitchenette cabinets, not taking up valuable floor space, while sitting perfectly next to other breakroom or lobby essentials. If clearance and counter space is limited, there is also an optional cabinet that can be purchased to serve as a stand and storage for the CO2 tank filter and extra flavor pouches and filters.
Ultimate Beverage Customization
With the Smartwell Countertop, clients, team members, guests and beyond can experience a healthier and more exciting way to hydrate. The dispenser provides an alternative to sugary beverages with filtered zero calorie water and allows for ultimate customization by offering choices of filtered still or sparkling water and delicious and natural fruit flavors and enhancements. With more than 70 custom beverage options, the unit can hold up to four fruit flavors at once (ten total flavors available), including raspberry, lemon and peach, as well as natural sweetener and enhancements such as Vitamin C, electrolytes and caffeine.
Save Space & Money (and the environment!)
Great for facility managers, the Smartwell Countertop eliminates storing bulky cases of bottled water or cans, saving not only space but the cost of purchasing single-serve beverages for the property as well. The unit also utilizes compact, multiuse pouches that reduce waste from single-use plastic bottles and aluminum cans, helping companies and buildings sustain more eco-friendly practices.
Facility managers can calculate how much they'll save through Elkay's Savings Calculator to see how the units are good for the bottom line and the environment. By reducing or eliminating the purchasing of single-serve beverages, the Smartwell Countertop helps reduce the number of disposable plastic bottles and aluminum cans that end up in landfills or contribute to pollution in our waterways.
Low-Maintenance, High Quality
Maintenance for the unit is also a breeze, only requiring cleaning of the unit daily or weekly (based on activity) and replacing the flavor and enhancement pouches when needed. The Smartwell® portal conveniently monitors the unit, tracks touchless dispensing data and manages orders all through a computer, smartphone or tablet. The portal will also send an alert when the flavor and enhancement pouches are running low and it's time to reorder and facility managers won't need to worry about ongoing maintenance as the service providers can easily conduct preventative maintenance using the intuitive touch screen prompts.
The Expanded Collection
The Smartwell Countertop gives facility managers even further customization options if the building has limited counterspace or not enough clearance by offering an optional cabinet that holds the countertop unit and then some. The cabinet allows for additional space to store accessories and more inside to keep the surrounding areas tidy and organized. In addition to the recently launched countertop unit, Smartwell® also comes in a floor-standing option. Both unit styles are equipped with a chiller, filtration system and an easy-to-use touch screen interface with optional touchless dispensing. Both unit options are also equipped with the Green Ticker™ feature, where users can see how much plastic bottle waste is saved.
With options for all office and facility sizes and consumption needs, Elkay has the right solution to optimize savings while bringing fun, flavor and healthy hydration to any property. These units help businesses meet corporate sustainability goals by eliminating single-use beverage waste from the building, without sacrificing flavor and variety for the employees. In addition to creating a bottle-less property, Smartwell® saves money, space and time. With on-demand dispensing and multiuse pouches, these features help reduce the cost of single-serve beverages and helps save precious storage space and time all while contributing to a cleaner, healthier environment.
To learn more about the new Smartwell Countertop, in addition to the full Smartwell® collection, please visit elkaysmartwell.com.