SPONSORED
Distech Controls an Acuity Brands Company - Branded Feature
From Smart Phones to Smart Buildings, Tech Products Will Continue to Improve Our Lives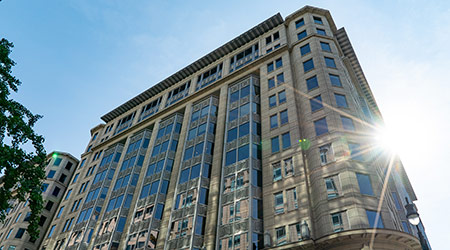 By Charles Pelletier, Product Management Director at Distech Controls
Smartphones, tablets and computers: we really can't seem to function without technology anymore. In a noticeably short amount of time, technology has exploded and now the movement is accelerating, changing our lives at a faster rate and in more ways than any of us could have imagined would be possible. Satish Meena, Senior Forecast Analyst at Forrester estimates that in 2018, the number of global smartphone unique subscribers surpassed 3 billion, with a penetration rate of 55% of the population.1 To understand how we went from low tech living decades ago to today, we need first to understand why technology evolves. Honestly, it's quite simply explained. In most cases, when there is a challenge, innovation comes to solve the problem.
Innovation Comes to Solve a Problem
Let's walk through a challenge and how innovation helped to solve a problem. What was the challenge? Over 135 years ago, janitors had to enter every classroom to verify the temperature of those spaces and then manually adjust the damper in the basement. How was it solved? At the end of the 19th century, the pneumatic thermostat was created to regulate room temperature which resolved this issue, freeing up time for janitors and providing room temperature consistency for the occupants in the space. Since then the thermostat has evolved into powerful and sophisticated systems that improve energy efficiency, reduce operations costs and make buildings more comfortable.
Where are We Today?
The invention of the thermostat at the time was considered a cutting-edge invention, but now we want and have come to expect more – improving on what's already out there with what we know and expect will come. We see what technology can do in our lives and have a desire to use even more of it at home, in our cars and where we work. According to the Environmental Protection Agency (EPA), the average American spends 93% of their life indoors, which equates to 87% of their life indoors, then another 6% of their life in automobiles. That's only 7% of your entire life spent outdoors. Since we are spending most of our lives inside of a building, occupant well-being is an increasingly important consideration for HR professionals and facility managers keen to optimize workplace performance, reduce absenteeism and boost morale.2
Those smart devices that entered our pockets and lives a few years ago have helped us to be more secure, more efficient, more aware and more comfortable. The same technologies that help make our lives better at home are now entering the commercial building space with the same objectives: make our lives better - more efficient, more comfortable, more secure. A recent IDC and Acuity Brands survey reports that almost 30% of building management companies have deployed a connected building solution, with another 60% also considering it (Challenges of Implementing Connected Building Projects Infographic, 2019, Sponsored by Acuity Brands).
Leveling the Playing Field
Since consumers are comfortable with the technologies used in these systems, it is not so different or far away from becoming a common occurrence in the workplace, the same technologies (internet, Wi-Fi®, Bluetooth®, smartphones, etc.) will be the foundation of tomorrow's connected buildings because they are widely used standards and they are ubiquitous. You'd be hard pressed to find someone without one. According to the Bluetooth Alliance, there are more than 10 Billion Bluetooth devices installed.3 Other studies forecast that the number of IoT devices that are active is expected to grow to 10 billion by 2020 and 22 billion by 2025.4 That is a lot of devices. So, let's have a closer look to one of my favorite technologies that when enabled can better spaces: Bluetooth.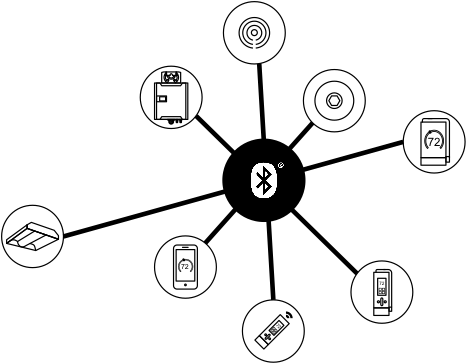 Smartphone, Tablet, PC
The same devices we use in our day job to interface with the digital workspace can be used to interface with building infrastructures and tenant/occupant services. Just like when you pair your smartphone to receive a call in your car using Bluetooth, you'll be able to do the same in a smart, connected building to set the light to the preferred level or adjust ambient temperature to the preferred level.
Sensory Network
Bluetooth is a standard for the short-range wireless interconnection of devices. This solution is ideal for reducing the installation cost associated with sensors in hard to reach spaces and helps to accelerate project delivery. Once placed the sensors can be used to collect information to optimize energy savings and for space occupancy utilization needs, such as changing room temperature and diming lights once all occupants have left a room. This makes the system install very flexible and future-proofed: sensors can be easily moved around when the space is remodeled, and new sensors can be easily added to monitor additional information within the space.
Actuator Network
Just like Bluetooth can be used to collect data from a sensory network, it can also be used to control a variety of devices in many configurations of space such as relays used for switching between voltages, for water shut off valves and connected LED luminaires, etc. This provides similar benefits of flexibility as mentioned in the other network examples but offers a more customized approach or one specific to the tasks these devices need to perform for the business. The capability still exists to future-proof the space for a remodel and the addition of new devices as needed.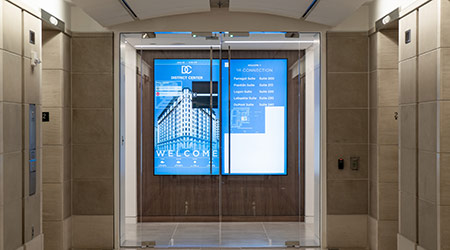 Wait there is More
Bluetooth is a wireless communication protocol that uses radio waves to transmit data. The strength of waves lessens while going through open air, walls, windows, the human body, and other surroundings. With this unique characteristic, if we measure the strength of the signal coming from multiples sensors at a point, we can determine the x, y position of an object. This is similar to a GPS system, but works well for indoor use where GPS doesn't have good coverage due to low signal strength. Bluetooth is the best suited technology for indoor positioning solutions (IPS) which can be used in a variety of situations such as helping someone find their way around a building or location using a mobile app.
Not Sure Where to Start?
There are different preferences for comfort within a building and for some building operators, the goals and objectives for creating more intelligent building spaces may vary. However, optimizing the workplace and providing occupants in building spaces with greater control is probably easier than you'd expect. A bonus is that you don't have to be an expert on your own to implement these tools as there are many vendors within our network that can help you achieve your goals. You can choose the level of connectivity based on the needs of your business, with the ability to expand well into the future. HVAC, lighting and sun blinds are the most commonly automated assets within a building.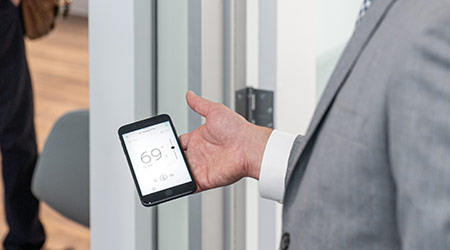 Distech Controls has recently launched the ECLYPSE® Sky Ecosystem platform, which provides Bluetooth® enabled occupant controls for offices and hospitality spaces as well as healthcare and educational buildings. The ECLPYSE Sky platform works with the Distech ControlsTM lighting controls, room devices and building management systems. It utilizes Bluetooth wireless communications to allow occupants to easily manage comfort settings within their space using the technologies most familiar to them such as a mobile device or a touchscreen device.
The standard technologies and devices we use in our day to day lives will continue to evolve. Acuity Brands is pleased to be an innovator that will continue to push the boundaries of smart and intelligent buildings to make our lives better and our spaces more efficient. Afterall, the greatest portion of our lives in spent indoors. So why not enhance the places where we spend most of our lives?
1. https://go.forrester.com/blogs/the-data-digest-forrester-forecasts-single-digit-growth-for-global-smartphone-unique-subscribers-for-the-first-time-in-2018/
2. https://www.thehrdirector.com/features/health-and-wellbeing/health-wellbeing-work-2/#_ftn1
4. https://iot-analytics.com/state-of-the-iot-update-q1-q2-2018-number-of-iot-devices-now-7b/
To learn more about the ECLYPSE Sky Ecosystem from Distech Controls, click here to view a video.
About the Author: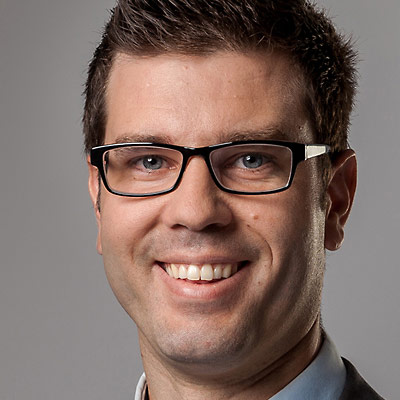 Charles Pelletier joined Distech Controls, an Acuity Brands company, in 2002. Today, as Director of Product Management, he is responsible for leading Distech Controls efforts to develop innovative products and solutions for the building automation and energy management market. With over 16+ years in BACnet, LonWorks, BACnet IP and other modalities, he empowers customers with modern technology that continuously and successfully delivers value for their facilities.
Resources
ECLYPSE® Sky Ecosystem platform
Video: Can your building enhance occupant experience?
Infographic: Challenges of Implementing a Connected Building