Facility Manager Cost Saving/Best Practice Quick Reads RSS Feed
Can School Design Help Thwart Active Shooters?
September 13, 2019 - Contact FacilitiesNet Editorial Staff »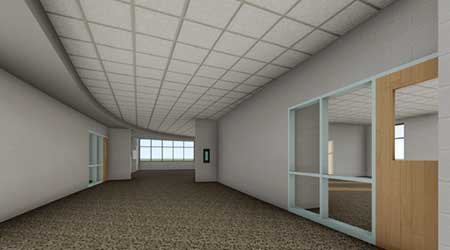 In this horrific age of school shootings, can building design itself be a way to help mitigate the threat of an active shooter? One school district in a small town in western Michigan thinks so.
Several design strategies at a planned $48 million high school in Fruitport, Mich., are specifically meant to thwart an active shooter. The school, which is scheduled to open in 2021, will include curved hallways (to inhibit a shooter's lines of sight), protective "wing walls" (which can provide protection or a place to hide), windows with impact-resistant film, and smart doors that can be locked from a mobile app, among other measures. As well, classrooms are designed with a "shadow zone," where students can hide from a shooter outside who couldn't seem them from the door, according to the Washington Post. One of the designers for the project said that, even with knowledge of the layout of the school, these design measures would be difficult to overcome.
The school got a $404,707 grant from the Michigan State Police to implement these measures, according to USA Today, which also reports that the curved hallway idea was actually just a bit of serendipity. The idea to replace the existing 1950s school was to build the new one around the old one. The designers realized the curved hallways this design would require would also be a useful security measure. And so they begin thinking about other ways the design could help prevent the worst effects of an active shooter.
It was also important not to make these design element obvious, though. That is, administrators wanted to to prevent students from thinking they may be in constant danger. The designers and administrators believe they've got this right.
"If you walked into our school, you would have no clue there were any of these security design elements anywhere. We want our school to be warm, welcoming and just an awesome place for students to learn," said Fruitport Community Schools Superintendent Bob Szymoniak in the USA Today piece.
This post was submitted by Greg Zimmerman, executive editor, Building Operating Management and FacilitiesNet.com. Read his cover story about Chris Walinski and his mission to make open offices flexible and productive.
---
Comments