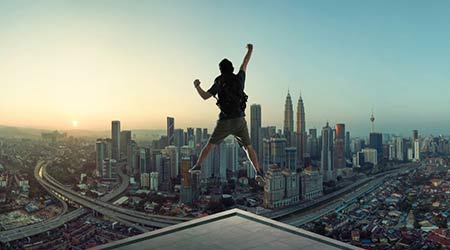 Urban Exploration: A Next-Generation Security Threat?
Thrill seekers may try to gain access to facilities' roofs to perform various feats of daredevilry. Facility managers must ensure roof access is secure.
The next threat, urban exploration, has the potential to obtain a lot of media attention and impact your tenants, your brand/image.
Urban exploration is not new, but the digital age has energized and expanded this activity into realms that are straight out of the movies. Rooftopping or roofing refers to the practice of gaining illegal access to a building with the goal of getting up onto the roof, antenna, or other elements of the built environment. This is done for dangerous recreational activity. These individuals, spurred by adrenaline, upload their adventures to social media and create viral videos, encouraging others to attempt like-type acts.
Rooftopping takes immense skill, coordination, and strength. The videos push the realms of this activity further and further, such as hanging from a ledge with one hand several hundred feet off the ground. These activities in some instances can lead to death, which was the case of the Chinese "Superman" Wu Yongning — his fall was captured in a video while he was attempting to win a $15,000 rooftopping prize.
Rooftopping acts are becoming more dangerous, and the potential for premise liability is as certain as gravity. Videos online go to significant length in describing how to access buildings as well, so there is certainly a security risk.
Arguably there is an expectation of security to deter, delay, or detect individuals trying to gain access to the roof of any building. While ultimately there is little that anyone can do to prevent someone who is determined from accessing a building, it is incumbent on owners, property managers, and facility managers to recognize these trends and add safeguards to prevent access to areas which could allow an event to occur.
Foremost, areas that might allow this activity should be controlled and monitored. This include sky decks, roof-tops, antenna access, and mechanical areas. Compartmentalization begins at grade level and includes operational aspects, such as security officers. Special attention should be given to freight and back office circulations. Controlling access into stairwells and freight elevators is necessary. Controlling access to roof-top areas and using video analytics to supplement alarm capabilities should be considered. Without due diligence, you might just see me as an expert on the plaintiff's side of a civil case involving a rooftopper's family, or worse the family of the innocent person drinking a coffee, unaware of the person who was falling at terminal velocity from above.
Sean A. Ahrens (sahrens@aeieng.com), CPP, FSyl, CSC, Mr. Ahrens is resiliency leader/expert security consultant and Security Market Group Leader with Affiliated Engineers Inc. a multi-disciplinary engineering firm that provides security consulting, assessment and security design solutions for all manner of projects. He has over twenty years of achievement, focusing on security assessment, design and the development/administration of cost effective programs that reduce security exposures within domestic and international markets.
Continue Reading:

Security

How To Evaluate Facility Security Vulnerabilities

The Brave New World of Cybersecurity: Evaluating Vulnerabilities

Urban Exploration: A Next-Generation Security Threat?
---
---
---
Related Topics: