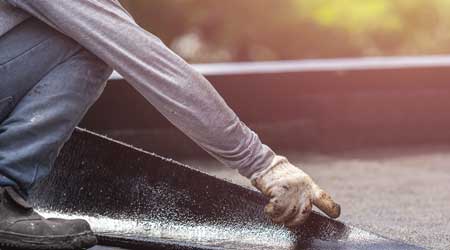 Roof System Selection: Ensuring Successful Roof Replacements
Focusing on occupant needs, material management and staffing issues can streamline roof replacements on commercial office buildings
The next critical area in the planning stages of a roof replacement involves the process of selecting the new system. As with any replacement project, selecting the most appropriate roof system for the needs of the facility is extremely important. Managers, owners and designers need look at the resiliency of the design, energy efficiency, and installation concerns before coming to a final decision.
Roof systems will be different according to the various climates in which they are used, including the potential for unique weather events. They can also be different depending on the facility type and occupant needs.
The U.S. Department of Homeland Security defines resilience as the ability to adapt to changing conditions and withstand and rapidly recover from disruption due to emergencies. The key words here are adapt and rapidly recover. In relation to buildings and roofs, resilience is measured in a structure's ability to quickly return to operation after a damaging event.
The resilience of a roofing system — an essential element in protecting the integrity of a building — is a critical component in any facility's ability to rebound quickly. This characteristic can refer to how well the system stands up to hail damage, storm debris and excessive rain. A robust roofing system also can provide a critical evacuation path in an emergency and can help maintain a habitable environment in a building in case of loss of power.
The project team also needs to consider the desired strength and internal protection levels, durability of the system, estimated service life and the type of warranty — 20-30 years, full system, leak warranty, etc. The team also should consider energy efficiency and the way it impacts and supports the organization's sustainability efforts and goals. Installation concerns cannot be overlooked. The type of deck structure will lead the selection, but other factors come into play, including odor concerns and the level of control required, as well as acceptable noise levels.
Any roof replacement project is going to be challenging for an occupied space, especially over an office building with multiple tenants, companies and uses. Managers need to give special consideration and planning to: noise coming from construction; odors from adhered systems, bonding adhesives, and insulation adhesive; and potential interruptions.
Having a plan to limit interruptions to ongoing business operations will go a long way in keeping tenants happy. Managers need to carefully consider the logistics of having extra workers and construction support personnel on-site, the off-loading procedures for the delivery and storage of materials, the use of parking areas, access to the building, and protecting the facility's landscaping and access points, as well as the way those issues will impact the tenants already occupying the space.
Continue Reading:

Roofing

High-Level Decisions: Successful Roof Replacements

Roof System Selection: Ensuring Successful Roof Replacements

Staffing and Security: Successful Roof Replacement Projects
---
---
---
Related Topics: