You Might Like
On FacilitiesNet
Roof Inspections: Establishing a Plan
Comprehensive inspection program can benefit departments, occupants and the bottom line
OTHER PARTS OF THIS ARTICLE
Pt. 1:
Roof Inspections and Extended Performance Life
Pt. 2: This Page
Pt. 3:
Roof Inspections and Streamlining Maintenance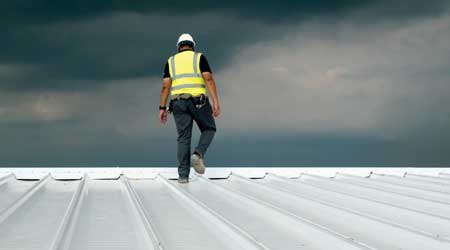 The key for all successful roof inspection programs is to be proactive. Having a plan in place allows managers to be proactive rather than reactive, which is better for everyone in the long run.
The first step is to develop a plan to limit access to the roof by using sign-in sheets, following up on inspections after all work is complete and repairing the damage that is found.
It also is important to have technicians inspect the roof after every storm. They should check for damage due to blowing debris or high winds. This step is especially important in the aftermath of a tropical storm hits. It is highly probable that damage is covered under the owner's builders risk policy, but many insurance carriers have time period limits from the date of the storm.
Managers next should schedule monthly roof walks by inspectors. During this thorough visual inspection, the inspector should carefully check the condition of each roof section, looking for cuts, punctures, tears, and other physical damage. They should observe and photograph the general appearance and cleanliness of each roof section. Immediately repairing problems will reduce the amount of damage to the roof system, insulation and decking. Keeping a record of every roof walk is an important part of the monthly inspection.
The next step is a semi-annual inspection by a trained professional. This inspection should be performed by a certified industry professional with extensive experience in the roofing industry, such as a Registered Roof Observer (RRO) or Registered Roof Consultant (RRC). This inspection is more intensive than the monthly roof walk and includes not only a detailed condition observation but also notes on trends of wear and a written report with photos. The report provided by the professional roof inspector also include a brief summary report of the condition of the roof system.
The last piece is the annual inspection by a trained professional. This inspection focuses on the same condition observations as the semi-annual inspection, but the written document should be much more comprehensive and include a five-year budget forecast plan with a detailed report on next steps for recommended corrective action.
Armed with a list of problems found during these proactive inspections, managers can schedule repairs immediately. By laying out monthly, quarterly and annual maintenance plans for structured roofing inspections by in-house maintenance personnel and professional roofing consultants can help avoid the premature replacement of a roof and diminish the need for an unexpected and costly repair.
Continue Reading:

Roofing

Roof Inspections and Extended Performance Life

Roof Inspections: Establishing a Plan

Roof Inspections and Streamlining Maintenance
---
---
---
Related Topics:
Comments