You Might Like
On FacilitiesNet
Roof Coatings: Performing Routine Maintenance for Warranty Compliance
Understanding facility needs, long-term goals and the latest coating options is essential for effective applications
OTHER PARTS OF THIS ARTICLE
Pt. 1:
Roof Coatings: Specification Based on Facility Needs
Pt. 2:
Roof Coatings: How to Properly Prepare a Substrate for Application
Pt. 3: This Page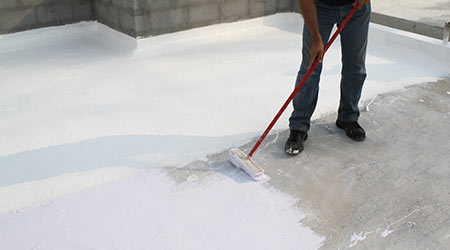 Once roof coating has been applied, managers need to make sure technicians perform regular maintenance in order to maximize the coating's effectiveness and life expectancy, and to ensure the warranty remains valid.
To achieve these goals, managers should schedule multiple roof inspections a year — after the winter months, after the summer months, and after any major storm.
"Maintenance is key to the life of any roofing material," Goodrum says. "Dirt, debris or biological growth can cause damage over time. Periodic inspections are always recommended. If a roof coating will be subjected to periodic traffic, it is also recommend to have marked walkways and protection against regular traffic."
When conducting a roof inspection, he issues technicians should be looking for include "damage from debris, such as tree limbs," Schwahn says. "Also, ensure penetrations from things like AC units, and roof vents are not causing damages."
Managers who schedule regular roof inspections can make sure the roof coating remains compliant with the manufacturer's warranty.
"Roof coating warranties often are material only guarantees and do not cover workmanship or waterproofing," Goodrum says. "Managers should be cautious of the fine print to ensure they are getting the intended coverage."
Because a coating warranty does not cover workmanship or waterproofing, it is important that managers to ensure the product is applied properly and according to the manufacturer's recommendations.
"Proper installation training and technique is required for the coating to perform for the entire life of the anticipated warranty," Leshansky says. "If a coating is installed incorrectly or corners are cut to save time and money, the warranty will likely be voided or the system will not perform for the anticipated life of the warranty."
Continue Reading:

Supplier Perspectives

Roof Coatings: Specification Based on Facility Needs

Roof Coatings: How to Properly Prepare a Substrate for Application

Roof Coatings: Performing Routine Maintenance for Warranty Compliance
---
---
---
Related Topics:
Comments