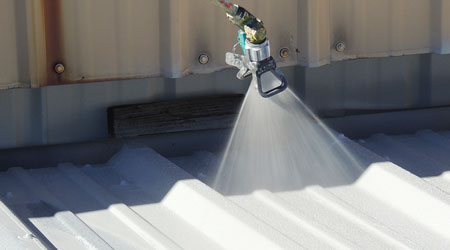 Roof Coatings: Cost Considerations and Facility Needs
Properly specified and applied, roof coatings can help managers extend roof performance life and curtail energy costs.
Maintenance and engineering managers have a host of questions to answer in specifying the most appropriate roof coatings for institutional and commercial facilities. Coatings have changed a great deal in recent years in response to demands from customers for longer performance life, easier application, and greater durability.
By understanding the various types of roof coatings, keeping up with codes and standards considerations, and quantifying energy-efficiency benefits of coating applications, managers can ensure coatings applications deliver both long-term performance and bottom-line benefits.
Coatings considerations
Determining the most appropriate roof coating to specify depends on the type of roof to which it will be applied. The most common types of roof substrates include: asphalt built-up; metal; single-ply, including ethylene propylene diene monomer (EPDM), polyvinyl chloride (PVC), thermoplastic olefin (TPO), Hypalon, a membrane-based reinforced synthetic rubber, also known as chlorosulfonated polyethylene (CSPE); and modified bitumen, which is asphalt roofing with rubberized modifiers in base sheets, interply sheets, and cap sheets.
Today, many roof coatings are compatible with a variety of these materials. For example, acrylic coatings that meet ASTM D6083 can be applied to EPDM, co-polymer alloy, PVC, polymer foam, Hypalon, metal, Neoprene, and TPO roofs. Polyurethane coatings can be applied to all the above, as well as asphalt built-up and modified bitumen systems.
Additional types of coatings include silicone, polyurea and aluminum. Silicone coatings can be applied over concrete, single-ply roofing, metal, and spray-in-place urethane foam roofs. Polyurea coatings are excellent for polyurethane roofs, and some formulations have the Cool Roof Energy Star rating for color and reflectivity. Aluminum coatings protect and seal: previous white or aluminum coated roofs; asphalt built-up roofs; steel, galvanized and tin metal roofs; and EPDM roofs.
Besides traditional roof coatings, manufacturers offer specialized coatings for specific roofing challenges.
For example, managers can check out specialized coatings for areas of ponded water on low- slope roofs more than 48 hours after rain. This adverse situation, caused by either incorrect installation or settling, can occur on a new roof or, more likely, an overlay because the old roof substrate has dips and valleys. Ponding causes rapid aging and deterioration of the roofing membrane due to high ultraviolet (UV) absorption and accumulation of airborne dirt, dust, pollen, tree buds and leaves.
Coatings to fill these depressions are formulated with lightweight fillers and high-build properties. Some offer one-coat application, are suitable for shallower ponds, or are layered with embedded fabric for deeper ponds.
Another special-purpose coating is roof cement formulated for sealing around flashing and other penetrations, as well as addressing traffic-damaged roofing. The tar-based cement used for asphalt built-up roofs is mostly coal tar, with filler and fibers for build and tensile strength, along with proprietary additives. It offers good elasticity and resistance to heat and cold, workers can apply it to wet surfaces, and it is ideal for emergency applications in the rain.
Aluminum and white coatings are gaining acceptance as options to seal and add flexibility to aging roofs while also reflecting UV and reducing cooling costs substantially.
One relatively new application for roof coatings has been extending roof life before the installation of solar panels. Trouble with solar installations when managers do not consider the shorter remaining life of the roof compared to the 25-30-year life span of the solar panels. This disparity can mean replacing the roof before the solar panels have reached the end of their life cycles.
Continue Reading:

Roofing

Roof Coatings: Cost Considerations and Facility Needs

Roof Coatings: Benefits and Energy Savings

Roof Coatings: Emissivity vs. Reflectivity
---
---
---
Related Topics: