Roof Coatings: Benefits and Energy Savings
Managers who understand the benefits of roof coatings can see many benefits including increased energy efficiency.
OTHER PARTS OF THIS ARTICLE
Pt. 1:
Roof Coatings: Cost Considerations and Facility Needs
Pt. 2: This Page
Pt. 3:
Roof Coatings: Emissivity vs. Reflectivity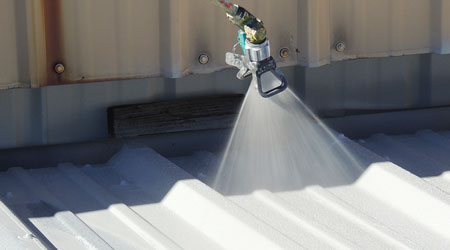 Roof coatings can deliver a host of benefits. They provide restoration for the underlying roofing, add a layer of insulation, improve emissivity and reflectivity, extend the service life, and reduce life-cycle costs.
They also can contribute to energy savings. Energy-efficiency savings depend on the building design, location and climate. Savings also depend on the type of existing roof, but also the cost of the coating, its emissivity and reflectivity, life span, warranty extension, and fire insurance premium reduction benefits. A quality roof coating designed specifically for the conditions might cost more, but it could be the best cost savings solution.
The annual benefits from black and white roof coatings are a subject of much interest, due to the savings potential of color in heating and cooling loads. Managers might assume that one color is always more beneficial than the other.
The Roof Savings Calculator from Oak Ridge National Laboratory concluded that one color's advantage depends heavily on location and climate. Heating costs in northerly climates are three to five times greater than cooling costs elsewhere. The Roof Savings Calculator found that the cooling benefit from white roofs in 25 northern cities, including as far south as Nashville, is exceeded by the heating penalty due to reflected heat lost.
The conclusion: The most efficient color in these northern areas is black. In southern areas, white is the most efficient. The takeaway is that the optimum roof coating selection varies by region and must take into account building design, location and climate.
As solar installations increase in number and decline in cost, one combination that is gaining in popularity in terms of potential gains in energy efficiency is the installation of a solar panel over a roof coating. One major challenge in this type of application is matching the roof's life cycle — averaging about 17 years — with that of the solar panels, which have a performance life of 25-30 years.
Properly specified and installed, elastomeric coatings can improve a roof's service life by 10-20 years, which can help to synchronize services lives of the roof and the solar installation. A Hypalon roof recoated with polyurethane coating can withstand the traffic needed to install, clean, and service photovoltaic (PV) panels. Color coding can be added to more abrasive-resistant coating to help designate walkways for technicians needing rooftop access.
Solar-array racks are installed in three ways: mechanically attached to the deck with fasteners; ballasted with concrete block weights; and directly adhered with flexible, thin film PV panels. Using a liquid coating to properly prepare the deck after the mounts are attached can produce a tight seal while extending the life of the roof.
Pre-coating the roof can help avoid having to repair the deck under the solar racks or ballast. Repairing or replacing the roof under solar arrays requires disassembling the panels, making a detained inventory, storing them safely, then replacing the roof, and re-assembling the solar arrays. Managers should be aware that during the downtime, electric cost will increase, so they need to factor this increase into the savings-cost calculations when evaluating the benefits of solar.
The roof coating adds to the cost, but it can increase the warranty years and might reduce fire insurance premiums, while solar power can reduce electric costs as much as 60 percent. If the coating and solar installation meet requirements to qualify for a federal renewable energy production tax credit under Production Tax Credit (PTC) 1603, it would receive a tax credit of 30 percent of the combined installation cost and a short depreciation schedule. PTC 1603 was passed under the American Recovery and Reinvestment Act of 2009 to increase investments in clean energy.
Spotlight on standards
Roof coating sampling, evaluation and manufacturing are guided by a range of codes and standards. Most local codes restrict overlays to one before a deck tear-off is required due to the added load, but coatings might be the exception. Some codes might allow an overlay and a coating to extend the life of the overlay before requiring a tear-off. But the authority having jurisdiction or local code has the final say.
ASTM currently has 768 standards covering roof coating manufacturing, sampling, evaluation and application. Also, Energy Star issues its own standards, and it provides resources for specifying roof coatings. The U.S. Department of Energy's Energy Star program offers an online Cool Roof Calculator that estimates cooling and heating load savings for flat roofs.
Even though 30 years of efforts by roof coatings manufacturers have produced a 90 percent reduction in volatile organic compounds (VOC), states continue to further regulate VOC levels to improve air quality.
A range of codes and standards cover specifications for roof coatings combined with solar arrays. These include: assembly of components; array placement with open paths, smoke and heat vents, and labels; fire ratings; hail; seismic activity; weight limits; and wind uplift. By understanding of the relevant codes, managers can ensure a long-lasting, economically viable roof coating application.
Thomas A. Westerkamp is a maintenance and engineering management consultant and president of the work management division of Westerkamp Group LLC, www.westerkampgroup.com.
Continue Reading:

Roofing

Roof Coatings: Cost Considerations and Facility Needs

Roof Coatings: Benefits and Energy Savings

Roof Coatings: Emissivity vs. Reflectivity
---
---
---
Related Topics:
Comments