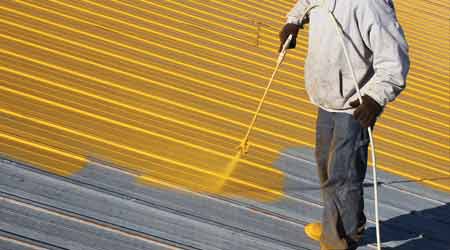 Determining The Condition of a Roof
Part one of a three part series on roof coatings
Roofing problems seem to show up at the worst possible times and, often, in the worst possible places. They also can quickly turn from small drips into large, costly headaches. Among the numerous options managers have in trying to prevent roof leaks and other problems is the use of roof coatings. Options in coatings have expanded and evolved in recent years as manufacturers seek to address customer demands for performance, flexibility and cost-effectiveness. To make smart coating decisions for their facilities' roofs, managers need to answer three questions related to specification, coating type, and post-installation inspection and maintenance.
What shape is it in?
Managers need to understand the condition of the roof in question before deciding on whether or not to apply a roof coating. Is the goal to preserve and maintain a roof that is performing relatively well, or is it to repair and restore a roof that has developed leaks?
"A reflective coating would be a good choice for a facility looking to preserve a roof and make it more reflective," says Michelle Carlin with GAF. "A liquid membrane is a fabric-reinforced coating system that restores a roof by forming a fully adhered and seamless roof system. This liquid-applied membrane is a system that a facility might choose for restoring a roof that has begun to show signs of failure via leaks or cracked seams."
Weather and climate conditions, as well as the type of facility, also should play a part in the decision. Managers in facilities such as schools and hospitals with occupants who could be sensitive to solvent fumes should specify odorless coatings.
Silicone roof coatings tend to be more resistant to grease, fats and oils than water-and solvent-based coatings.
"That makes them a better choice for use on restaurants, airports, food processing facilities and other commercial buildings," Kate Baumann with Mule-Hide Roofing Products says. "The other things to look at are temperature, weather, humidity and other climatic conditions likely to be faced during and just after the coating application."
Silicone and solvent-based coatings are more cold tolerant than water-based coatings, Baumann says. Technicians should conduct adhesion tests following the coating manufacturer's specifications to make sure the coating selected will adhere properly to the substrate.
Coatings are not always the solution, however.
"Managers should look at all solutions," Baumann says. "Coatings are often an excellent choice, but sometimes there are other choices with reroofing, and you really need to take the soundness of the current roof under consideration and make an educated decision overall with all of the choices."
Managers who do decide to apply roof coatings could see multiple benefits for their facilities, both immediate and long-term.
"Coatings have always had an edge when it comes to benefits for facilities," Carlin says. "Facilities save money on initial installation costs, they save money by choosing a reflective coating, and they save money by allowing existing roof components to perform better."
Because coating application can take place while occupants are in the building, the process does not need to disrupt them or their activities. Reflective coatings have been proven to save facilities up to 30 percent on cooling costs, Carlin says. Coatings also help address the urban heat island effect by not contributing to a rise in surrounding air temperatures.
Continue Reading:

Roof Coatings

Determining The Condition of a Roof

What Type of Roof Coating is Best

Properly Maintaining a Roof After Coating Application
---
---
---
Related Topics: