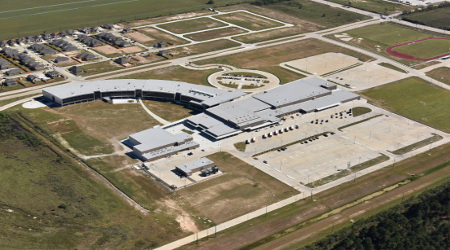 Case Study: Roofing Project Helps District Meet Demand
The Cypress-Fairbanks Independent School District – commonly referred to as Cy-Fair — is one of the largest in the state of Texas. It covers a portion of Houston, as well as the city of Jersey Village and other unincorporated areas of Harris County for a total of 186 square miles. As of August 2016, the district had 88 general-purpose campuses, including 54 elementary schools, 18 middle schools, 12 high schools, and four special program facilities.
But in the fast-growing Houston area, they weren't enough for the high school population. A 179-acre site had been purchased in 2006, but due to the recession and a decrease in state funding, plans for construction on the site were put on hold until 2015, when plans for the new Cypress Park High School were put into motion.
Cypress Park High School ultimately will be part of an educational village – a multi-campus site that will include a middle school and an elementary school. With that future plan in mind, CFISD, PBK Architects, and Satterfield & Pontikes Construction created a campus that includes a three-story classroom wing, a cafeteria building, a utility plant building, and an athletic and art building.
Once the multi-campus site is complete, the schools will be situated in a circle design with a park area to support all three. The central commons building has one large kitchen that eventually will serve all three schools. During the day, folding-wall partitions will separate elementary, middle, and high school populations for dining. The partitions can be removed, allowing use of the large space for meetings and other school events.
The central utility plant building serving all three schools will improve cost and energy efficiency. In addition to practical advantages, the educational village concept will make the transition from one school to the next easier for students, and it will allow mentoring opportunities for students and teachers.
The first step was the construction of Cypress Park High School. With long-term goals in mind, the roof of the new 592,000-square-foot, $128 million facility was a key consideration. CFISD made their roofing decision as an owner with an investment stake in their facility, with an eye to minimizing risk of damage or interruption from leaks, and maximizing the life of the roof. They chose a two-ply, granule-surfaced SBS-modified bitumen roof membrane installed over reusable lightweight insulating concrete roof insulation, all supplied by Siplast.
Siplast lightweight insulating concrete — Insulcel mix — was poured in place over slotted galvanized deck. Siplast lightweight insulating concrete systems combine the unique properties of lightweight insulating concrete and premium expanded polystyrene foam insulation board. The resulting roof insulation system has a smooth, monolithic surface ideal for roofing application, and works to prolong membrane life by acting as a heat sink.
This mass effect, or thermal inertia, reduces extreme temperature fluctuations and the resulting thermal stresses that cause membrane fatigue failure. To install the system, a thin slurry coat of lightweight insulating concrete is poured in place. Decreasing thicknesses of Insulperm insulation board are embedded into the slurry, forming the slope-to-drain contour of the finished system.
A top layer of insulating concrete is placed over the Insulperm, filling the holes in the Insulperm and locking it into the system without the use of fasteners. The surface is screeded to a smooth finish. Significantly, lightweight insulating concrete is reusable, which has a positive impact on the life-cycle cost of the roof system, as well as the environment. At the time of reroofing, rigid insulation board is typically removed and disposed of in solid-waste sites, whereas lightweight insulating concrete remains in place.
Installation of the roof membrane began with application of the first ply of a robust, two-ply system. Semi-adhered Siplast Paradiene 20 TS was installed over the new lightweight insulating concrete deck using the innovative Siplast RT Surface Treatment.
RT Surface Treatment is a heat-activated, asphalt-based pellet that is broadcast into the surface of newly poured Insulcel lightweight insulating concrete. It provides enhanced bonding when semi-adhered Paradiene 20 TS is applied directly to the surface of the Insulcel deck. When Paradiene 20 TS is torch-applied, the membrane and pellets are heat welded, resulting in a highly engineered system with a first ply that is not only adhered to the deck surface but also mechanically bonded to the concrete without penetrating the membrane.
Following installation of the Paradiene 20 TS, a Paradiene 30 FR TG finish ply was installed using a torch. The resulting Paradiene 20/30 roof membrane is a proven, lightweight, multi-ply, highly flexible membrane designed to retain its elasticity through severe solar load, ultraviolet rays, thermal shocks, random ponding water, and extreme low temperatures.
Both Paradiene's top and base plies consist of an elastomeric asphalt blend – a unique formulation of styrene-butadiene-styrene (SBS) and high-quality proprietary asphalt – reinforced with a fiberglass mat. The workhorse Paradiene 20 base ply absorbs roof stresses while the granule-surfaced top ply shields the base from the elements and mechanical abuse. The granule surface means the system does not require the application of gravel, giving it a light installed weight of approximately 200 pounds per square and making inspection and repair easier.
The project was finished on schedule, allowing the excited class of 2020 to be the first group of students to enjoy the impressive new facility.
---
---
---
Related Topics: