You Might Like
On FacilitiesNet
9 Ways Green Roofs Bring Greener Cities, Buildings
The choice of a green or vegetative roof can have multiple financial benefits for the building. And other benefits — like reducing stormwater runoff — accrue to the city at-large.
As it becomes more important to make both new and existing buildings more sustainable, building owners are creating new ecological spaces for urban areas by installing green roofs instead of traditional ones. A green roof, also called an eco-roof or garden roof, is a roofing system that grows plant life on a flat or slightly sloped, waterproof and layered substructure. Green roofs can also incorporate several different elements to help the structure work more efficiently. For example, storm water detention tanks store rain overflow that is used in the building's water system for irrigation and non-potable applications. Additional elements that can also be found on green roofs may include solar panels, wind turbines, and thermal heat exchangers. The solar panels and wind turbines are both used as sources of energy to reduce electricity consumption for the building. The thermal heat exchangers warm the water throughout the building.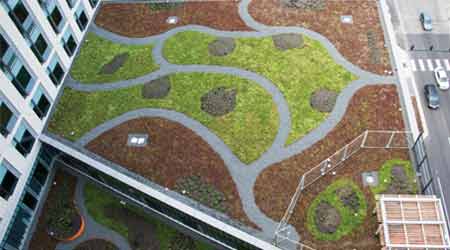 RSS Roofing Services and Solutions
Overall, green roofs provide range environmental, facility, corporate, and social benefits for both the environment and building owners and tenants. Here are nine benefits that make them worth considering.
1. Reduces urban heat island effect. When compared to traditional roofing, one of the biggest benefits of green roofs is their reduction of the urban heat island effect. This is due to the plants on the roofs either reflecting or absorbing heat and lowering the temperature around the building. The transpiration of the plants and evaporation of water also lower the overall temperature surrounding the building.
2. Improves air quality. The foliage decreases dust in the air and removes pollutants from the atmosphere. The vegetation also absorbs carbon from the air, helping to mitigate climate change while further improving air quality by producing oxygen.
3. Reduces storm water runoff. Green roofs reduce storm water runoff. The growth media and moisture retention mats on the roof absorb rain water, acting as a sponge and buffering the drainage system. This allows the water time to be released through evaporation and stabilizes groundwater levels.
4. Extends roof life. A green roof protects the roof membrane against extreme heat, strong winds, and temperature fluctuations. This defense against the elements can double or triple the lifespan of the roof. Green roofs can save the building owner money due to a longer life of the roof, but it also recoups the investment within eight to 21 years. Because they last longer than traditional roofs, green roofs minimize waste because the roof is replaced less often.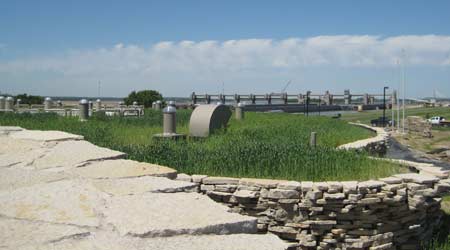 (On the National Great Rivers Research and Education Center, a green living roof was installed with six inches of recycled material/Styrofoam insulation, 12 inches of special "manufactured" soil, native grasses, an observation deck, and an ADA-compliant accessible ramp. Photo: RSS Roofing Services and Solutions)
5. Saves energy. Green roofs save on heating and cooling costs because they reduce the load on the HVAC system. The resulting energy savings can boost property value.
6. Increases building marketability. Green roofs increase the marketability of the building. Because they reduce the urban heat island effect, reduce storm water runoff, and improve air quality, green roofs are associated with the environmental movement and give potential tenants a reason to lease space in the building. Research shows that businesses in buildings with green roofs found it easier to recruit and retain employees and tenants when compared to companies in a building with a traditional roof.
7. Offers visually appealing space. A garden area creates a visually appealing space on a roof. Architectural screens can also be installed for privacy or block out a dreary view. These changes create an efficient green roof contribute to a positive environment for people, which makes the building a more valuable space for future and current tenants.
8. Creates jobs. Green roofs create jobs in the community as demand for these types of roofs grows. The green roof market is continuing to grow which creates new job opportunities in the manufacturing, nursery, design, installation, and maintenance fields.
9. Regulates noise. An efficient green roof helps provide a comfortable and useful environment for those using it. It offers noise attenuation, especially with low-frequency sounds. The foliage and drainage layers absorb sound vibrations and make a quieter space for those using the building, which adds to the value of the structure.
Bill Klein (bklein@roofingsands.com) is an estimator and project manager for RSS Roofing Services & Solutions in St. Louis and has more than 20 years of commercial roofing experience.
Continue Reading:

Green Roofs

9 Ways Green Roofs Bring Greener Cities, Buildings

4 Factors for Green Roof Product Selection
---
---
---
Related Topics:
Comments