4 Factors for Green Roof Product Selection
From materials to maintenance, keep these considerations in mind when looking at green roof products.
OTHER PARTS OF THIS ARTICLE
Pt. 1:
9 Ways Green Roofs Bring Greener Cities, Buildings
Pt. 2: This Page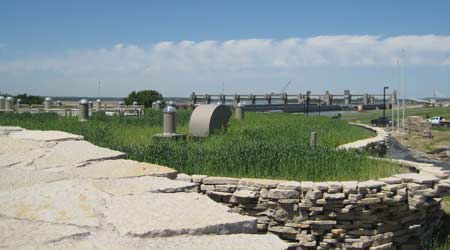 RSS Roofing Services and Solutions
1. Materials — There are several factors to consider when discussing the design and construction of a green roof. When choosing materials for the roof, it is important to choose native plants that naturally populate the local climate zone. This is best for easy upkeep and a greater survival rate of the plants. The roof media should be blended to meet a specific usage and weight specification to increase the chances of plant success and prevent overload. The materials used are modified with the intended plants and depth of garden soil.
2. Irrigation — Irrigation is also important when selecting plants and designing the use of the green roof. The foliage can be as simple as a patch of grass or as complex as a landscape or garden. Depending on its complexity in design, eco-roofs can be classified as intensive, extensive, or modular trays. Intensive green roofs use a deeper soil layer and most often have an irrigation system that is better suitable for deep-rooted plant landscape, such as trees or shrubs. Due to its elaborate designs, intensive green roofs are more expensive than extensive and modular tray systems. Extensive eco-roofs and modular tray systems usually do not include a garden and have little or no irrigation systems, so they are low maintenance with a simple landscape design. When differentiating the three green roof techniques, modular roofing systems are typically the least complicated and least expensive option while the intensive green roofs are the premium choice.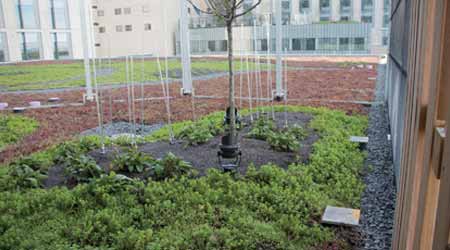 (The 78,800-square-foot green roof at Barnes-Jewish Hospital includes 23 roof levels. Sections of the roof applications include standard TPO roof installations accented with garden roof areas that contain 458 cubic yards of growth media. RSS Roofing Services and Solutions)
3. Water management — The choice of waterproofing material is also critical to the success of a green roof project. The waterproofing must be installed properly with the root control system. This is important because access to these layers is difficult to accomplish after the garden materials are installed. Because of the challenging installation process, it is strongly encouraged to test the waterproof layer before the overburden layer is installed.
4. Maintenance — Through the first growing season, maintenance is usually performed monthly with weekly watering. Once the vegetation is established, the garden will only need to be checked quarterly. All components of a garden roof will also need to be monitored after significant weather events to check for any damage. Maintenance of an eco-roof includes a visual inspection of the roof, weeding, removal of debris, and verification of appropriate soil moisture and irrigation.
Bill Klein (bklein@roofingsands.com) is an estimator and project manager for RSS Roofing Services & Solutions in St. Louis and has more than 20 years of commercial roofing experience.
Continue Reading:

Green Roofs

9 Ways Green Roofs Bring Greener Cities, Buildings

4 Factors for Green Roof Product Selection
---
---
---
Related Topics:
Comments