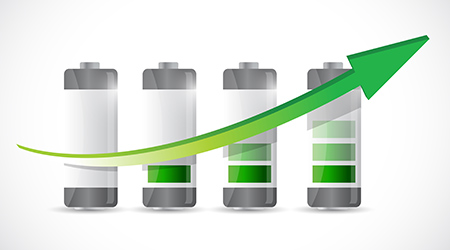 Energy Storage in U.S. Booming; More Still Needed
Energy storage systems are gaining favor from all sectors, with the U.S. market seeing a year-over-year growth of 44 percent in chemical-based energy storage in 2018, according to research from Wood Mackenzie Power & Renewables. Industry analysts expect even more robust growth in 2019 as battery shortage issues are addressed and the solar-plus-storage power purchase agreement pricing continues at record lows, among other factors.

It is expected that U.S. energy storage annual deployments will reach 4.4 gigawatts by 2024. This figure includes residential, non-residential, and front-of-the-meter deployments.

The economics around energy storage are now such that utilities are starting to favor large-scale energy storage installation over new fossil-fuel peaker plants, even gas-fired plants. Institutional investors also are increasingly interested in the technology as an interesting option, according to Energy Storage News, and one large reinsurance company has introduced a 10-year warranty cover policy for stationary batteries.

Despite these gains, the market will need to add significantly more energy storage in order to move to a 100 percent renewable power grid, to about double the amount forecast to be deployed by 2040, according to reporting from Inside Climate News.
Naomi Millán is senior editor of Building Operating Management.
---