Understanding Backup Power, Generator Applications
Understanding applications can help managers ensure power system reliability.
OTHER PARTS OF THIS ARTICLE
Pt. 1: This Page
Pt. 2:
Understanding Backup Power, UPS Modules
Pt. 3:
Understanding Backup Power, Effective Testing
Pt. 4:
SIDEBAR: Backup Basics-Testing, Testing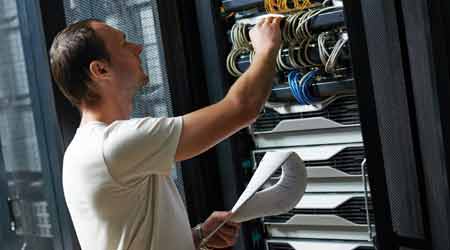 Emergency and backup power are integral to the reliable operation of mission-critical systems and facilities. Without a robust infrastructure, small anomalies in incoming power can lead to significant outages and incidents. For maintenance and engineering managers, developing a high level of confidence in an electrical infrastructure can lead to a stronger sense of system ownership and trust that it will respond as designed.
The phrase backup power is used often when discussing generator and uninterruptible power supplies (UPS), but each system performs different tasks. The facility's generator provides an emergency or alternate source of power during an incoming power event. On the other hand, the UPS provides a source of backup power in the form of a battery or energy storage system to maintain continuity of power to the load while the system is transitioning to backup power.
Generator applications
The typical institutional or commercial facility uses one or more emergency generators as the primary means of backup power. In a typical configuration, backup generators connect to the electrical system using automatic transfer switches (ATS) or an automated switchgear application, and they constantly monitor the incoming main power supply. If an outage occurs or if that power supply deviates from acceptable limits, the generator starts automatically and restores power to the system once it is transferred to the generator.
Most data centers use standby diesel generators to provide backup power. These engines are the typical application due to their ability to start quickly, to maintain steady-state output power within relatively tight limits, and to respond to load transients quickly with minimal deviation. Depending on the cost of fuel, stockpiling and running a diesel generator can have considerable cost impacts, but the cost has been long accepted by the industry due to the engines' capabilities.
As fuel costs continue to escalate, and as the industry shifts toward more sustainable fuel sources, managers have expressed more interest in alternative-fuel systems for backup power generation. Traditionally, managers have avoided alternative fuel sources because of slow starting times and slower transient response.
Due to advances in generator governor control and engine design, low-pressure natural gas engines — both reciprocating and turbine driven — have made inroads into facilities, providing the transient response and start times data center that owners and designers require and offering a sustainable alternative to standard diesel generators.
Continue Reading:

Energy

Understanding Backup Power, Generator Applications

Understanding Backup Power, UPS Modules

Understanding Backup Power, Effective Testing

SIDEBAR: Backup Basics-Testing, Testing
---
---
---
Related Topics:
Comments