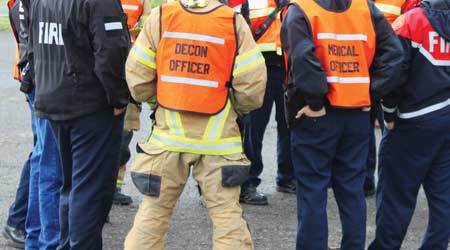 Systems Integration is Key for Emergency Communications
These basic questions must be considered to properly integrate emergency communications with other building systems.
Emergency communications systems have traditionally been installed as standalone systems with basic integration requirements (e.g., door hardware magnetic hold-open release upon fire alarm notification). In some cases, this is the best emergency communications systems solution. However, in most facilities today, the emergency communications system is integrated with the building's information and communication technology systems (ICT).
Requirements for ICT are different than requirements for power distribution and lighting systems. ICT design requires knowledge of the latest life safety codes, ADA and accessibility codes and laws, and all the advances and options available in technology and ICT systems. In fact, standards and codes have been written to address and identify the specific design and installation differences between traditional power distribution and ICT design methodologies. For example, neither a standard nor large electrical box can support new Category 6 cable infrastructures. Boxes specifically designed and manufactured for ICT systems are available and meet code requirements and comply with industry standards by providing adequate cable fill-area and bending radius. Systems associated with building technology are becoming Ethernet/IP-based and are dependent on a standards-based ICT backbone and horizontal infrastructure design.
In choosing what systems to integrate, or to determine if integration will benefit facility operations, property-specific issues and questions need to be resolved. Ultimately, the building owner or stakeholders are the ones to determine if and what integration is right for them. An ICT consultant should be capable of helping to analyze a facility, assess its needs and operations, and present integration options for consideration.
Basic questions that should be asked or considered are:
• What systems can be integrated? Is the system Ethernet/IP-based? If not, what are my communication protocol options: proprietary or RS232 (serial), RS422, or RS485? For example, an audio-visual control system can integrate with and control a wall-mounted programmable lighting controller using an RS232 communication protocol. This is a common control communication protocol between systems that is sometimes overlooked.
• What systems must be integrated? This prompts questions related to code and accessibility. For example, consider a case where delayed egress is permitted and used on code-required exits. While delayed egress may offer a deterrent to unauthorized use of an exit, there's a flip side that has to be taken into account: Those doors have to be integrated with the fire alarm or mass notification system so that they immediately unlock and allow free egress during an emergency event. Once the fire alarm or mass notification system is reset, the doors can automatically return back to a delayed-egress state of operation. Also, as part of electronic security, monitoring of door contacts/position switches at these doors should be disabled to eliminate false alarms in the access control or intrusion detection system, which could cause added confusion during an emergency event.
• What are the advantages and disadvantages of various integration solutions? Consider all options. For example, suppose a campus should choose to text or call cell phones with a message as a means of emergency communications. In that case a commercial cellular distributed antenna system will need to be installed to support that signal throughout the facility. The cost of supporting two, three, four, or more wireless companies (those available in the area) could be cost-prohibitive. On the other hand, providing a well-designed commercial cellular distributed antenna system layout within a historic district or building may be cost-effective compared with other options, especially if it can be used for non-emergency communications too.
• What level of integration provides a safer environment for the building occupants and the physical plant? For example, integration solutions utilizing unified communications — like text messaging, phone calls, email, PC notification, etc. — could offer the greatest level of safety and emergency communication for large higher-education or commercial campuses or facilities: During an active shooter incident when power and systems may be temporarily shut down, unified communications may become the only functional means of communication.
• What are the costs, benefits, and implications of integration? This is one of the hardest issues to evaluate when considering the safety and protection of occupants. For example, a facility/property manager must consider other protective resources beyond the ICT. Based on the size or presence of resource or security staff, the need and associated costs for certain systems integration can be eliminated. Likewise, if resources are limited, it may be more cost effective to have greater systems integration than staffing expenses to provide acceptable levels of protection of occupants and property. However, capital budgets and operational budgets are usually funded from different sources; this may impact the decision-making process as well.
Clearly building owners and facility managers must be able to identify and assess the purpose of their facilities; their demographics at any given time; the anticipated level of expertise and abilities of their staff; and an inventory of any existing ICT systems. For proper integration, many design, operational, and system elements need to be considered to determine what ICT systems can be and should be interoperable.
The ability to be able to interpret, understand, defend, and apply fire and building codes, as well as ADA and accessibility laws, is essential to a successful emergency communications integration project. ICT designers should be part of the building owner or facility manager's professional architectural and engineering design team. As a minimum, a project RFP should include the requirement for a certified RCDD designer and a licensed fire protection engineer, both having a minimum of five years of design and consulting work experience.
The ability to integrate multiple building technologies into an interoperable solution has created opportunities to save money, cut installation time, reduce maintenance, and improve operational efficiencies. The codes and standards permit system integration, but the integration must comply with code and standards. Ignoring those codes and standards during the design can quickly eradicate any potential integration cost and time savings. "Integration" is much more than a generic design note like "…systems shall be interconnected to…" — a note like this is intended more as a means and methods function. This may work for legacy power distribution installations but not for ICT. The note and specifications should derive from a complete and professional design that is an integral part of the building ICT. Then the professional installer can provide the level of workmanship that will result in cost savings, installation time reduction, and system longevity. Systems and technology may become out-of-date but the ICT infrastructure should not.
Timothy Ruiz (timr@codeconsultants.com), RCDD, is department manager of information and communications technology, Code Consultants, Inc. He has 42 years of experience in electrical and ICT engineering as well as in architectural, civil, and structural design. Cory Ogle (CoryO@codeconsultants.com), P.E., is engineering manager for the firm. He has more than 21 years of experience in the fire detection industry.
Continue Reading:

Emergency Communication

Emergency Communication: Getting the Right Message to the Right People

Systems Integration is Key for Emergency Communications
---
---
---
Related Topics: