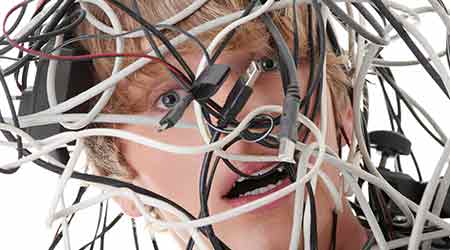 Cable Distribution Options To Consider
To avoid cabling nightmares, consider these cabling options based on your particular facility situation.
There are a variety of cable distribution pathways to consider. The best choice varies based on building condition, cost, and flexibility.
For open office spaces:
• Modular furniture system: Uses utility columns from the floor to the ceiling in the work area for cable distribution (pathways), or raceways.
Common types of raceways in the market:
• Surface mounts directly on walls, in carpet, under carpet, or on carpet and floors.
• Recessed raceways integrated into the walls, furniture, and other surfaces.
• Single- or multi-channel raceways that support different systems, and may have physical separation.
For in-floor distribution:
• Floor boxes used on-grade, above grade and raised floors can come pre-wired or wired on-field.
• Pedestal and flush poke-thrus, which can come pre-wired or wired on-field.
• In-floor duct systems such as walker-ducts, and cellular raceway systems.
For in-wall distribution: Outlet boxes installed in drywall, plaster, or concrete block walls come in various sizes. Single gang are most commonly used for telecommunications.
For above-ceiling cable distribution: Cable trays, basket trays, J-hooks, and cable loops are all commonly used in the industry.
Continue Reading:

Cabling/Wiring

6 Ways To Avoid Office Cabling and Wiring Nightmares

Pay Attention To Cabling Industry Standards

Cable Distribution Options To Consider
---
---
---
Related Topics: