Facility Manager Cost Saving/Best Practice Quick Reads RSS Feed
Restrooms and Opioids: The FM Link
May 24, 2018 - Contact FacilitiesNet Editorial Staff »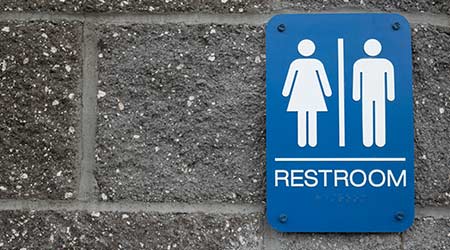 Opioid addicts are making use of public restrooms to use drugs, according to a recent Chicago Tribune article, "Public bathrooms become clandestine epicenter of opioid crisis." Incidents of overdoses in public areas are increasing, including recent deaths in restrooms in a White Castle, a Starbucks, and the Skokie, Ill., courthouse.

Facility managers are increasingly being drawn into this battle against the opioid crisis, considering the issue related to their public restrooms: "In response, some building managers have restricted access to their bathrooms, tried design tweaks to discourage drug use or equipped their security guards with naloxone, the overdose-reversing medication."

What are those design and operational tweaks? A CNN article suggests installing blue light to make it more difficult for drug users to see and inject themselves effectively. It also suggests not using drop ceilings in restrooms so users cannot use them to hide needles and paraphernalia. Another strategy is to use a key-code access control system instead of a traditional lock-and-key system. This way, people have to request the code to get in to the restroom, and security personnel can more easily gain access to monitor the area. Finally, managers can use a reverse motion detector that alerts a security guard if the restroom is occupied but no motion has been detected for a set amount of time.

The article also provides a description of the ideal restroom: "A model restroom would be clean and well-lit with stainless-steel surfaces, and few cracks and crevices for hiding drug paraphernalia. It would have a biohazard box for needles and bloodied swabs. It would be stocked with naloxone and perhaps sterile water. The door would open out so that a collapsed body would not block entry. It would be easy to unlock from the outside. And it would be monitored, preferably by a nurse or EMT."

But, unfortunately, "there are very few bathrooms that fit this model in the U.S."

This Quick Read was submitted by Greg Zimmerman, executive editor, Building Operating Management. Read his cover story profiling Northwestern University's vice president of facilities management, John D'Angelo.
---
Comments