Facility Manager Cost Saving/Best Practice Quick Reads RSS Feed
Pay to Use a Public Toilet? Many Americans Say They Would
April 3, 2018 - Contact FacilitiesNet Editorial Staff »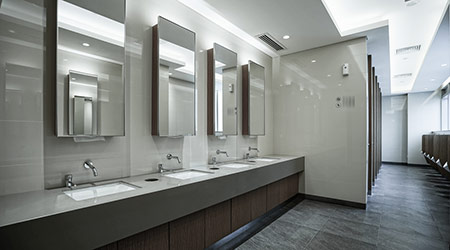 When building occupants and tenants enter a building, there are two areas that have a big effect on their perception of a facility, they are restroom cleanliness and restroom maintenance.

To help ensure cleanliness, would you pay for a guaranteed clean public restroom? Most Americans are at least open to the idea, according to Bradley's latest Healthy Hand Washing Survey.

According to the survey, pay toilets aren't common in the United States but 56 percent of Americans say they'd consider paying as long as they were guaranteed a clean, well-stocked public restroom. How much, you ask? 45 percent would drop a quarter, 29 percent would part with up to 50 cents, and 6 percent are big spenders who'd shell out more than $1.

Respondents readily shared a list of things that get them riled up. Clogged or unflushed toilets; toilet paper dispensers that are jammed or empty; and partition doors that don't latch are the biggest irritants.

When asked what improvements they'd like to see, the top requests were: keep restrooms cleaner and ensure they're adequately stocked with toilet paper, paper towels and soap. But What can be done to address these issues? In new facilities, the restroom design should be focused on measures to avoid these issues. In existing facilities, facility managers can take steps to minimize their impact on operations. Here's a close look at ways to prevent these common complaints.

Restroom design can play a large role in determining the image occupants and visitors have of a facility. Poor restroom design choices can create a poor first impression that's hard to overcome.

Putting out some cash in exchange for cleanliness and plenty of toilet paper might not be a bad thing since 70 percent of Americans say they've had a particularly unpleasant experience in a public restroom due to the condition of the facilities.

This Quick Read was submitted by Ryan Berlin, managing editor of Facility Maintenance Decisions.
---
Comments