You Might Like
On FacilitiesNet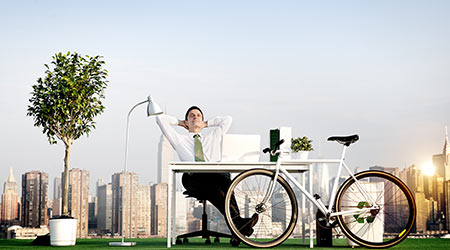 The Tricky Business of Measuring Occupant Health and Wellness
It's a truth, universally acknowledged, that high-performance, smartly designed and operated buildings can have a positive effect on occupants' health and wellness. But to date, there haven't been too many great metrics for proving that. Much like the notion that sustainable, high-performance buildings increase worker productivity, the metrics (fewer sick days, for example) used to gauge health and wellness have often not been as illustrative as many facility managers would like.

With the advent of the WELL Standard – a LEED-like rating system measure health and wellness with several different credits in several different categories – facility managers could follow a checklist, get a building certified, and be reasonably sure they actually were employing strategies that had real impact on occupant health and wellness.

A new project — a collaboration between Mayo clinic and Delos — called the Well Living Lab will attempt to further prove the link between buildings and health and wellness. The three-year study will explore "the interplay of elements such as sound, lighting, temperature, and air quality, the plan aims to provide insight on the positive, neutral, and negative effects that these features have on the people exposed to them." The research will focus on five areas: health, performance, stress and resiliency, sleep, and comfort. It will attempt to answer three key questions:


How office workers respond to artificial lighting both while in and after leaving the office
How changes in environmental conditions affect sleep and stress
The best interventions to increase cognitive performance and improve job satisfaction

The study's will results will be a huge benefit for FMs and the industry at large for making workspaces more comfortable and healthy. Stay tuned!

This Quick Read was submitted by Greg Zimmerman, executive editor, Building Operating Management. Read his cover story profiling Northwestern University's vice president of facilities management, John D'Angelo.
---