« Back to Facilities Management Plumbing & Restrooms Category Home
The ABC's of Restroom Maintenance in Schools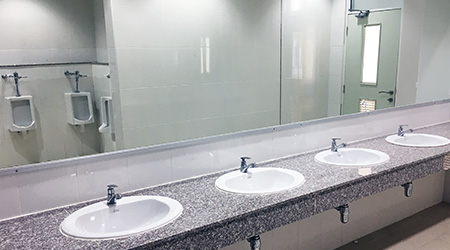 March 13, 2018 - Plumbing & Restrooms
By Fabio Vitali
With so many students and faculty in close quarters in schools, it's easy for germs to spread from person to person or from surfaces to people. In fact, a 2016 Healthy Hand Washing Survey found that nearly half of parents said their children missed between two and five days of school in the last year due to a cold or the flu.

Specifically, restrooms are often a breeding ground for pathogens that can lead to illness and absences that negatively impact learning. Thankfully, regular cleaning and disinfection can support health. Facility managers and building service contractors (BSCs) can avoid common restroom pitfalls by understanding frustrating yet avoidable issues and maintenance best practices.

Restroom Fails

There are numerous restroom issues that can frustrate students, staff and visitors, including:
Low quality paper – A facility may think that purchasing cheaper toilet paper and paper towels is the best way to save money. However, lower priced paper is often lower quality that easily tears and irritates skin. Guests may end up using more one-ply paper in the restroom stall and to completely dry their hands after washing than they would if they were provided with high quality paper.
Clogged toilets – Clogged toilets not only detract from the appearance of the restroom, they also create odors that can deter guests and impact the number of usable stalls.
Poorly stocked essentials – A guest's restroom experience is easily ruined when there is limited access to toilet paper, soap, water or paper towels. Yet this happens all too frequently.
Ineffective hand drying methods – Many hand dryers take a long time to completely dry hands, and wet hands actually spread germs more easily than dry ones. In the process, hand dryers also project germs around the room, unlike paper towels that thoroughly dry and remove remaining germs from hands.

An A+ Guide to Maintaining School Restrooms

There are several best practices that BSCs or in-house cleaning crews should follow, including:


Dedicate tools for restroom cleaning: To avoid tracking germs from the restroom to the cafeteria or classrooms, schools should dedicate a cleaning cart for restroom use. The cart, stocked with supplies such as disinfectants, plungers, scrubbers, towels and mops, will help employees stay organized and prepared for daily cleaning.
Conduct top-to-bottom cleaning: Top down cleaning helps reduce cross contamination and the need to re-clean areas. For example, air vents, windows, mirrors and walls should be the first focus. Then, clean sinks and toilets, and finish with mopping and drying the floors. Provide employees with a step-by-step guide that highlights the cleaning process as well as critical areas that are often overlooked, like light switches and soap dispensers.
Track cleaning frequency: Janitorial staff should keep track of when and how often restrooms get cleaned via a cleaning log. Restrooms should be checked multiple times a day to ensure they are always in great shape.
Select smart products: Today there are toilet paper and paper towels products available that support a clean restroom. For example, there is toilet paper that produces safe enzymes to eat away dirt when it makes contact with water. This paper helps to sanitize pipes and septic tanks to reduce the occurrence of costly plumbing issues while also fighting unpleasant odors. Meanwhile, some paper towels are designed to be flushed away, dissolving like toilet paper to avoid clogs.
Restock regularly: Guests can't maintain proper hygiene without key restroom essentials. Cleaning crews should ensure that restrooms have enough toilet paper, paper towels and soap products, and that storage closets are stocked with extra inventory in the event of an outbreak like influenza or norovirus.
Use signage to promote proper hygiene: Especially in schools where younger children are present, restroom signage is essential for highlighting the importance of handwashing, flushing toilets, avoiding clogs and drying hands.
Take advantage of low-occupancy times: Low-occupancy times, like summer, are ideal for conducting inspections and updates in restrooms. Consider replacing older toilets that use nearly five gallons of water per flush with high-efficiency toilets, motion sensor faucets that conserve up to 70 percent of water in restrooms, and motion sensor lights to reduce energy bills.

Graduating to Improved Maintenance

Schools are meant to be a place for learning and growth. However, they can also be an inviting place for germs to live and a maintenance nightmare if key areas like restrooms are not tended to on a regular basis. To preserve cleanliness and health within educational facilities, it is important for facility managers and BSCs to understand the most common restroom complaints and maintenance best practices, and invest in products that better support restroom hygiene and aesthetics.

Vitali is vice president AFH marketing and sales for Sofidel America. Reach him at marketing@sofidelamerica.com.
posted on 3/13/2018