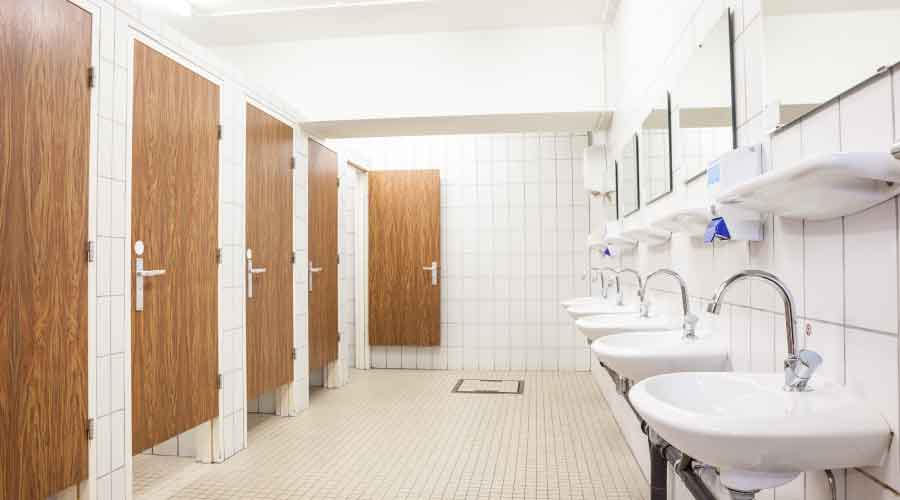 UCSF Focuses on Accessibility in Restroom Renovation
Renovations at the University of California San Francisco had to work through COVID-19, facility issues and occupant needs.
Renovation and upgrade projects in institutional and commercial facilities have ever been easy. They are notoriously challenging for managers involved in planning and completing them, given the unpredictable nature of facilities, staff and materials, among many variables. Then add the COVID-19 pandemic into the mix, and the complexity skyrockets.
For the University of California San Francisco (UCSF), a restroom and plumbing system upgrade in its Milberry Union Conference Center spanned four years and faced several challenges, thanks to the pandemic, structural hurdles and the complexities of renovating existing facilities.
"It's an old building, which was one of the issues we ran into," says Conor Neville, project manager with UCSF's campus design and construction department, who oversaw the building's restroom upgrade and expansion project. "We had a lack of as-built drawings to show us what was existing. We found things behind walls we did not know were there."
Center of attention
UCSF is a multi-site campus with locations throughout the city and county of San Francisco, containing about 8.25 million square feet of owned and leased space across its campuses. Its academic and clinical sites are at Parnassus Heights, Mission Bay and Mount Zion, and it has a major presence at the city's San Francisco General Hospital (SFGH) site. The Milberry Union Conference Center on the UCSF Parnassus campus was built in 1958 and encompasses more than 410,000 square feet containing a mix of activities and uses.
"Most of the activities in the building are offices and student support," Neville says. "There are some executive offices in the building. There's a food court on the first floor in the plaza level, and there's a conference center on the first floor."
The need for upgrades of restrooms and plumbing at the union became evident as the use of the facility's food court and conference spaces increased.
"With the food court, people from all over were eating there and going to the conference center," Neville says. "It's also sort of a path of travel. People come from the car park and walk through to get to the hospital and research buildings, so it had a lot of foot traffic."
The building's first floor has about 35,000 square feet, and the actual project within that was about 2,000 square feet.
"The project was to add restrooms to the first floor," Neville says. "Each floor has restrooms, and some of the floors had accessible restrooms. Some of the restrooms had signage to direct people that needed accessible restrooms to the nearest accessible restroom, either on the next floor — on the third floor or the second."
The project addressed both space considerations and accessibility.
"Accessibility was one of the drivers," Neville says. "There just weren't enough accessible restrooms on the first floor, particularly to the conference center and the food court. There weren't enough plumbing fixtures under the current code to meet the occupancy of the first floor.
"We created brand new restrooms — a female restroom with stalls and a separate male restroom with urinals stalls. We also created a couple of support spaces, and we included in that area a gender-inclusive restroom. On one side of the floor, we added new restrooms, and on the opposite side of the floor was existing male and female restrooms. We created three individual gender inclusive restrooms. Two of those three meet ADA standards. The third one, we were working with an existing constraint in the existing space."
The need for more space and greater accessibility prompted the university to start the renovation planning process.
"It was identified a few years ago by the leadership," Neville says. "It had been known for some time that this was an issue, and leadership identified a funding source, so we started with a study to see what we could do. We had to add space, and of course, space is premium to put these new restrooms in.
"We had to relocate certain folks, so there were discussions for several months to come to an agreement on who would move and where to move those people in order to put in the restroom."
An early step in the process was to understand what the building space would allow in terms of renovations and expansions, as well as existing activities and occupants.
"We did a study and identified what we needed to add and carve out from the existing space to meet the minimum requirements," Neville says. "Then we identified a couple of locations where that might work. Then we worked with user groups and said, 'We're going to move you, and we're proposing to move you to this location.' There was a lot of that, and it took several months, and then it was identified where to put the new restrooms and some additional support space."
Dan Hounsell is senior editor for the facilities market. He has more than 25 years of experience covering engineering, maintenance, and grounds management issues in institutional and commercial facilities.
Continue Reading:

Project Management

UCSF Focuses on Accessibility in Restroom Renovation

Overcoming Renovation Challenges to Deliver Upgraded Restrooms
---
---
---
Related Topics: