Routine Plumbing Maintenance Can Improve Functionality, Efficiency
If managers fail to plan for routine maintenance, high repair costs can create workload headaches.
OTHER PARTS OF THIS ARTICLE
Pt. 1:
Plumbing Renovations That Enhance Performance
Pt. 2: This Page
Pt. 3:
Specifying Plumbing Products for Functionality not Aesthetics
Pt. 4:
Conducting Restroom Renovations in Occupied Buildings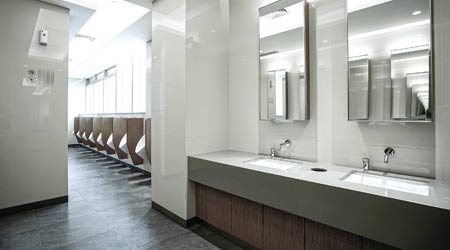 Fixture and faucet maintenance can drive up high costs and create workload headaches if managers fail to plan. For this reason, high-quality faucets and flush valves with repairable or replaceable parts are essential in buildings with 40-year performance lives. Chances are good that institutional buildings will undergo many renovations in their lifetimes, all in the interest of functionality, efficiency, and an enhanced user experience.
Public restrooms require ADA accessibility, and with that comes special features, such as limited-depth lavatories, extended-reach faucets, and protection from burns or injury from exposed water and drain piping beneath fixtures. Protecting occupants and visitors from injury can involve a slanted skirt beneath the fixture or a counterop enclosing the piping in an insulating flexible material that protects occupants from direct contact.
Restroom maintenance challenges also can result from vandalism, pipes freezing and neglect. Managers can avoid all of these issues by taking proper precautions during project planning, as well as the design and construction phases.
The location of sensor-faucet connections, soap-dispenser bottles, electrical connections, stop valves and fixture battery-isolation valves also can affect the ability to properly maintain and service restrooms. Access panels and removable panels should be part of the renovation process to give technicians the needed access.
Restrooms also require floor drains to accommodate floor cleaning and to collect water when fixtures leak. Due to neglect, traps can dry out, and sewer gas can leak back into the building, so during a renovation, it is important to replace the strainer, caulk openings, install or replace the trap primer, and install reliable trap guards to minimize the possibility of the trap drying out.
Health and hygiene
Restroom renovations offer managers opportunities to enhance hygiene and protect users from themselves. Among the product considerations are: antimicrobial coatings; hands-free faucets, flush valves, soap dispensers, paper towel dispensers; wall-hung — not floor-mounted — water closets; and hands-free electric hand dryers.
Bowl lavatories integrated into countertops offer enhanced cleaning and disinfection opportunities. Motion sensors, along with open entry and exit points, are beneficial in high-traffic areas because they eliminate the need to touch doors and handles.
Manufacturers and vendors of hand dryers and paper towel dispensers have done numerous studies and life-cycle cost analyses to determine the drying type that is most economical for a particular application based on operation and occupancy type. While paper towels and hands-free paper dispensers might offer lower first costs compared to electric hand dryers, when paper runs out, this benefit is lost, and refilling requires maintenance.
Continue Reading:

Plumbing & Restrooms

Plumbing Renovations That Enhance Performance

Routine Plumbing Maintenance Can Improve Functionality, Efficiency

Specifying Plumbing Products for Functionality not Aesthetics

Conducting Restroom Renovations in Occupied Buildings
---
---
---
Related Topics:
Comments