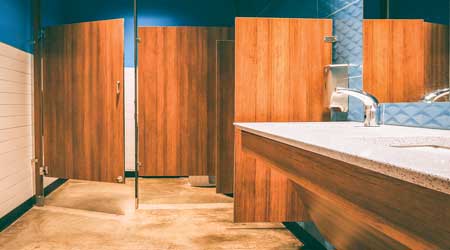 Joe Dietrich
Restroom Design Trends Focused on Infection Control
While infection control will continue to be the top priority in restroom design, other trends focusing on privacy, ventilation, and more are gaining momentum.
Infection control is imperative in healthcare, but it is also important when designing restrooms in other industries, including hospitality, education, and corporate buildings. This is not the only common trend in restroom design among these sectors, however.
For example, to have the best user experience possible, privacy is always a top priority. It is also important to have a good flow in the restroom so the end user can be as efficient as possible. For multi-stall restrooms, examine how people go in and cue the space if necessary. The flow should make sense for people washing hands to get out the door and provide shelf space for storing purses, planners, cell phones, or coffee cups. The sink area often becomes wet, so people do not want to set items on it. It is also helpful to provide hooks — both on the wall next to the sink area and in the toilet stalls.
Another common trend is putting changing tables in both men's and women's restrooms if there is not a family restroom nearby. If there is an opportunity for a baby to come into the building, like a corporate office space or hotel, it is beneficial to put one in every restroom.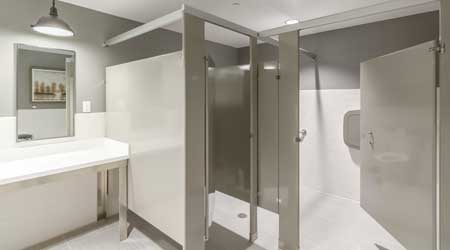 (Changing tables are being added to both men's and women's restrooms. Credit: Joshua Bishop Photography)
Just like with healthcare restrooms, the door swing is an important design component that translates across any market. The door swing is best if it can swing out. Most people do not want to have to touch the dirty door handle after just washing their hands. This also usually means that a second waste can is placed near the door for people to take an extra paper towel and then use it to pull the door open. This is wasteful and can be avoided by the door swing. This is becoming a much greater concern as society starts to understand how touching surfaces and then their faces can be the cause of spreading many types of disease and illness, including COVID-19, influenza, and even the common cold.
Ventilation, while important for reducing odor, can be a greater concern. Though odor is, or should be, a clue that the room is not ventilating sufficiently, the odor can imply that air — which may contain an aerosolized virus or bacterial droplets from the plume of a toilet flush — is not being removed fast enough. Restroom exhaust will likely become a much greater consideration in the future as the transfer of infectious diseases is studied.
For water consumption and durability with the plumbing systems, soap and drying options need to be next to the sink. If a hand drying option is not next to the sink then water will drip on the floor, allowing an opportunity for falls. If paper towels are used, disposal needs to be directly adjacent to the paper for an easy deposit. Otherwise, people will not use it appropriately.
When it comes to fixtures, further consideration will need to be given to toilet lids to prevent aerosolized droplets from escaping after flushing. Additionally, toilet seat covers, once considered a luxury, may become far more important to reduce contact with contaminated surfaces. The same may be true with using toilet paper to cover seats if no specific cover is provided. This may result in changing toilet and accessory designs that meet a greater number of criteria while keeping ADA and accessibility in mind.
While there are similarities with the way restrooms are designed among different industries, it is not exactly a cookie-cutter concept. There are specifications that need to be met and different factors to consider depending on the type of building it will be used for.
Restrooms for corporate buildings
When designing restrooms in a corporate building, all code and ADA requirements must be met. Typically, corporate clients are looking for a higher end restroom feel when renovating. This includes upgraded finishes, tile floors, quartz countertops and wallcoverings, among other accessories.
On a square footage cost basis, restrooms are one of the more expensive areas of a facility. Durability and cleanability are crucial to maintaining the aesthetic look of being a "first-class" operation. Aesthetic trends are often guided by the desire to appear new. This can be a particularly challenging aspect of design as selecting materials based on the latest aesthetic trends often conflicts with the cost to durability ratio that is important in restroom design.
In some regions of the country, more classic neutral colors are chosen in corporate building restrooms to be more sustainable and not based on a particular trend. The building is investing a lot of money to renovate the restrooms and they want it to be timeless and last for years to come. One challenge of selecting materials that may appear timeless is that they may not reflect the latest notions of what is contemporary or trendy.
Continue Reading:

Restroom Design

Design Lessons from Healthcare Can Help Prevent Infection Spread in Restrooms

Restroom Design Trends Focused on Infection Control

Understanding Restroom Design Shifts in Schools, Hospitality Facilities
---
---
---
Related Topics: