Plumbing Renovations That Enhance Performance
Managers who understand facility needs can improve hygiene, water savings and the user experience.
OTHER PARTS OF THIS ARTICLE
Pt. 1: This Page
Pt. 2:
Routine Plumbing Maintenance Can Improve Functionality, Efficiency
Pt. 3:
Specifying Plumbing Products for Functionality not Aesthetics
Pt. 4:
Conducting Restroom Renovations in Occupied Buildings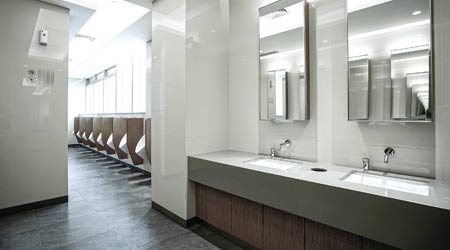 Renovations and retrofits of restrooms and plumbing systems present maintenance and engineering managers with a set of difficult challenges. These areas of institutional and commercial facilities must use water efficiently, operate reliably, avoid hygiene concerns and generally provide a positive user experience.
To help organizations achieve these goals, maintenance and engineering managers need to understand facility needs that are related to performance, sustainability, hygiene, and water conservation, and they must specify fixtures, faucets and dispensers that deliver long-term performance.
Project planning
Understanding and documenting facility goals, needs and budgets is a primary factor in successful renovation projects. Some managers might believe a restroom upgrade only involves a fresh coat of paint and perhaps new fixtures, while others recognize the need to not only upgrade but to enhance the room's functionality and hygiene to reduce health risks, increase water conservation and maintain a higher degree of cleanliness, which can result in less maintenance overall. Many times, project goals depend upon whether it is just the restroom that is being renovated or if the restroom is part of a larger renovation project.
When starting a project, the design team's role is to research and study the adopted building and plumbing codes and accessibility requirements, then present the project team with options to suit the project needs and budget so a plan can be formulated and the renovation can move forward. Some renovation projects might only include replacement of the faucets and flush valves with more efficient types while others, particularly in older facilities, involve more extensive work that can include gutting and replacing fixtures, counters, and chase walls.
The facility and building occupancy type can help managers determine whether the most appropriate option for the project is to renovate in place or to expand the floor space in order to meet code minimums or new requirements as a result of a change in function or occupancy.
Locating and sizing a toilet stall that is compliant with the Americans with Disabilities Act (ADA) often is the first step of project planning because it is larger and requires a proper access path. Once the team has defined the scope and reached a consensus, documentation and fixture selection can take place.
Water watch
Many older facilities are inefficient when it comes to water and energy. When deciding to renovate an area, building codes typically require that the renovation meet current code requirements. The project planning team also can decide if the renovation should achieve current requirements for LEED certification.
Meeting these requirements can produce important water and energy savings, and it can reduce maintenance and operating costs. LEED Operations and Maintenance for Existing Building — LEED v4 — sets the guidelines and provides a scorecard to follow to achieve the desired certification.
One of the credits that is applicable for LEED certification is the Water Efficiency prerequisite and credit. Facilities can earn this credit by implementing indoor water use reduction through the use of; low-flow water fixtures; ultra-high-efficiency water closets and flush valves at 1.0 gallons per flush (gpf); dual-flush valves; ultra-high efficiency — 1.0 pints per flush — or waterless urinals; and timer- or sensor-operated faucets.
Projects can earn an Energy and Atmosphere Minimum Energy Performance pre-requisite and Optimize Energy Performance credit by using hydro-power faucets and flush valves and ultra-high-efficiency hand dryers.
Fortunately, sustainability is more easily achieved since recent changes to the plumbing code were made. For example, the Uniform Plumbing Code (UPC) 2015 requires all public fixture faucets to deliver a maximum of 0.5 gpm at 60 psi and metering faucets to deliver a maximum of 0.25 gallons per minute (gpm) per cycle.
Flushometer valves must provide a maximum of 1.6 gpf, but more often, the authorities having jurisdiction are enforcing the 1.28 gpf requirement. Health care occupancy fixtures generally are excluded from this requirement, but reductions in water use are still very important and must be planned.
Multiple options are available for low-flow, high-efficiency water closets and urinals. These options include dual-flush valves, sensor-operated flush valves, battery-operated or electric-flush valves, and water-powered, turbine-type flush valves that generate and store power created by water flow. Many battery-operated flush valves use batteries that have an average 10-year life, which can reduce maintenance costs. Of course, this depends upon frequency of use and facility type.
Continue Reading:

Plumbing & Restrooms

Plumbing Renovations That Enhance Performance

Routine Plumbing Maintenance Can Improve Functionality, Efficiency

Specifying Plumbing Products for Functionality not Aesthetics

Conducting Restroom Renovations in Occupied Buildings
---
---
---
Related Topics:
Comments