You Might Like
On FacilitiesNet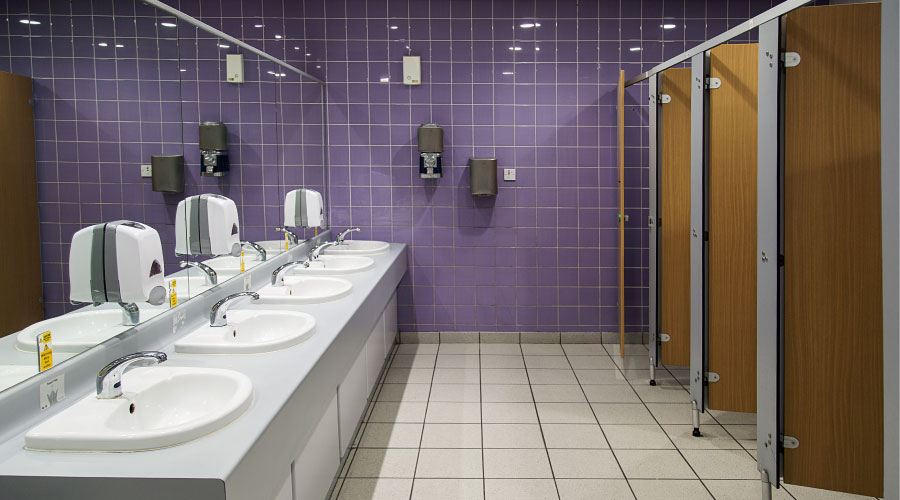 How to Improve the Restroom Experience
From technology to accessibility, these trends will inspire changes in restrooms.
The restroom makes a lasting impression. From overall cleanliness to the amount of toilet paper to the technology used to wash hands, occupants and visitors will judge the rest of the facility based on their time in the restroom.
As society's expectations evolve, restroom facilities are undergoing transformations to enhance hygiene, accessibility, and user experience. Manufacturers are introducing innovative solutions to cater to these changing needs, creating a new era of restroom design.
Suppliers are prioritizing hygiene, accessibility, user comfort, and technology integration, as well as how they aim to deliver cleaner, more inclusive and environmentally conscious facilities.
Internet of Things
It's one of the most dreaded situations to occur when at a public event. A person is in line to use the restroom at a concert or a basketball game and when it's finally their turn, there's no toilet paper or the soap dispenser is empty. Situations like this can thoroughly ruin a visitor's experience at a facility.
This is where the Internet of Things (IoT) comes in. With connected faucets and dispensers, facility managers can rectify the problem before it ever exists.
"Smart technology and IoT are key drivers of operational efficiency in commercial restrooms," says Will Haas, senior product manager, Bradley Corporation. "Over-stretched maintenance staff are on the lookout for restroom products, technologies and features that optimize maintenance, cut costs and make their jobs easier. Not only do maintenance indicators give facility staff advance notice when something needs to be refilled, restocked or addressed in some way, this smart technology also gives building occupants confidence in knowing that the restrooms will be regularly stocked and cleaned."
IoT is predicted to have a restroom design in the future as it's able to troubleshoot features in real-time. Data collected and reported from IoT devices can be pulled up on a dashboard that managers can view. With this, they can determine how many people have used the restroom and how many supplies are needed to maintain the space better.
"IoT will certainly have an impact on restroom design in the future," says Greg Hunt, product manager, Chicago Faucets. "The ability to monitor and even troubleshoot faucets will free up maintenance staff to do other critical functions without the need to periodically monitor restrooms throughout the day."
Collecting data with IoT technology can also help facility managers better plan the space when it comes time to upgrade or redesign the restroom.
"We found that if you have a bank of faucets, typically one faucet gets a majority of the use, while the other two are hardly ever used," says David Scelsi, marketing product manager, T&S Brass. "By having this technology on hand, you can plan a little bit better and maybe put a bigger reservoir for the sink and soap dispenser that gets used the most."
Mackenna Moralez is the associate editor for the facilities market.
Continue Reading:

Restrooms

How to Improve the Restroom Experience

From Pandemic to Priority: Restroom Trends to Know
---
---
---
Related Topics: