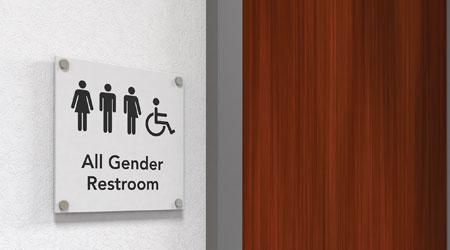 How to Design Public Restrooms That Work for All
Strategies that address touchpoints, sustainability, and hygiene will meet occupant and manager expectations.
Public restrooms pose a distinct challenge that embodies the essential goal of design: to create functional spaces in institutional and commercial facilities without sacrificing aesthetic quality. COVID-19 has accelerated the advancement of public restroom design across market sectors.
Public expectations for sanitization in facilities are at an all-time high, and customers are increasingly looking for a positive restroom experience. Functional components of hygiene, cleanability, and conservation of resources remain primary concerns, tempered by the innate need to be surrounded by aesthetically pleasing design.
Touchless and sustainable
The trend of touchless technology will continue to be the primary arbiter of change. Sensor-activated faucets came into prominence in the early 1980s and have proven to be one of the most important and lasting innovations in restroom design. Fixtures continued to improve over the decades, in terms of reliability, cost and efficiency.
The newest touchless fixture solutions combine faucet, dryer, and soap dispensers with trough-style sinks. Safety and appearance retention are the primary goals of these combination style units. Because hand washing and drying occur in the same space, water spills on the floor are limited, mitigating slip-and-fall conditions. Deeper sinks also help minimize splash.
Conservation also is a major consideration in the design of public restrooms. For example, hand dryers are not only convenient but reduce paper towel waste. An increased focus on resource conservation, coupled with the popularity of touchless combination units, led to the development of waterless urinals in the 1990s. In light of the pandemic, as more customers and guests are keen on cleanliness, the use of waterless urinals will expand.
While waterless urinals are common in high throughput public facilities, such as stadiums and highway rest stops, waterless toilets have not yet become mainstream. These devices greatly reduce the spread of bacteria because users do not need to touch the device due to the lack of a flushing requirement.
Currently an outlier, the waterless or composting toilet was featured prominently by the Bill and Melinda Gates foundation in the Netflix movie, "Inside Bill's Brain: Decoding Bill Gates." The foundation sponsored a competition that addressed the need for sanitary waste disposal in developing countries.
While these systems often target residential use in rural areas, the same technology could be applied to higher capacity public restrooms in the future. The increasing price of water will drive acceptance of these new approaches. As water continues to be a scarce resource in many regions and water futures are traded on the Chicago Mercantile Exchange, the transition to waterless technology for commercial use seems highly probable over the next 10 years.
Touchless fixtures help create a cleaner restroom by managing stock and having fewer touchpoints to disinfect. Similarly, waterless urinals help reduce odor complaints.
Maintenance labor costs remain a primary concern for building owners and managers because demands for wage increases and wage parity become increasingly prominent in today's current socio-political environment. As a result, the need for easily cleanable fixtures and materials will continue to grow.
Step by step
In 2008, leading surveys conducted by Airport Interviewing and Research Inc. determined several important factors that contributed to a customer's idea of a so-called perfect restroom. Top findings included concerns about cleanliness, privacy, security of personal belongings, and convenience in terms of amenities and proximity.
How can managers hope to achieve the perfect restroom? As with any long-lasting change, interim steps are fundamental to success. A step-by-step process needs to be in place to allow managers to plan their budgets to reach these goals.
Motion sensors are one proven technology that can be extended beyond motion-activated light switches. Many of the problems in communal bathrooms involve spreading germs via flushing, which creates an airborne dispersal called a toilet plume.
Sensors can activate lid closure prior to automatic flushing, which will alleviate this problem. New sensor technology actually has lowered the cost of high-efficiency flush valves. These valves consistently deliver lower amounts of water over the product's lifespan. As valves are replaced, water use goes down, and resource conservation increases.
By shifting to single-user, gender-neutral restrooms, managers can minimize toilet plumes and make restrooms more personal and inclusive and less institutionalized. Single-user restrooms also limit noise and provide a larger stall with better ventilation. The success of family and gender-neutral restrooms in the aviation marketplace signals that the larger public is embracing the idea.
A number of hybrid restroom designs also address privacy issues. In 2018, MSP rolled out restroom innovations across its airports that provided larger stalls and floor-to-ceiling dividers with doors, all within the context of a conventional restroom. This hybrid approach meets the requirement for fixture counts yet maintains the enhanced features of a privatized room. Architects of public restrooms also need to be mindful of inclusivity and accessibility and work to reconsider the way to design restrooms that meet accessibility guidelines under the Americans with Disabilities Act.
The future of public restroom design will be determined through a combination of processes: analyzing user needs; applying state-of-the-art technology to address resource conservation, safety, and cleanliness; and efficient planning with regard to privacy, accessibility, and inclusivity. When combined with a considered use of materials and fixtures for appearance retention and cleanability, these factors will improve the customer experience across all types of facilities.
Rick Marencic, IIDA NCIDQ, is design principal and studio leader for JCJ Architecture.
---
---
---
Related Topics: