You Might Like
On FacilitiesNet
Go Beyond the Basics for Restrooms Products and Processes
Occupants returning to offices will have high expectations for clean, sanitized restrooms. Managers will need to follow strict protocols to make sure restrooms are safe.
OTHER PARTS OF THIS ARTICLE
Pt. 1:
Restrooms Upgrades Must Consider Coronavirus, Hygiene Issues
Pt. 2:
Rethinking Restroom Sanitation Practices During the Pandemic
Pt. 3: This Page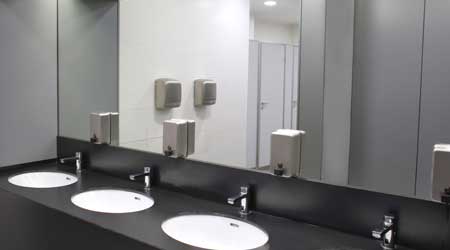 Managers planning for reopening buildings and returning occupants must go beyond just the products and processes related to plumbing and restrooms. Buildings need to follow strict protocols that include removing all stagnant water and air before occupancy begins. Technicians need to periodically open faucets and flush toilets during the shutdown, and just before business resumes, they need to drain tanks and hot water heaters and remove drinking water fountains and other equipment containing standing water.
Managers taking action to control the spread of the coronavirus also must pay close attention to the importance of communication. Along with signage to promote proper hand washing, they also need to emphasize the importance of wearing a mask properly when needed, practicing social distancing and using proper cleaning and disinfection methods for contact surfaces.
Setting the stage with signage about proper hand washing in restrooms is essential. Effective hand-washing technique emphasizes coating the hands with soap and water and includes rubbing the soap into the skin for at least 20 seconds. The duration of the process is critical because it ensures a more thorough cleansing, as opposed to a brief surface once-over with hand sanitizers or wipes.
The hand-washing routine soon becomes habit forming, guarding health and saving lives. Just washing them with soap for 20 seconds and drying them with a disposable towel is best. Towels apply friction to the skin, which helps remove dirt and pathogens.
Proper disposal of sanitizing wipes also is a crucial component of controlling COVID-19.. Sewer water can be kept safe from the coronavirus if users flush only toilet paper. Disinfecting wipes and other similar items must be disposed of in the trash.
Thomas A. Westerkamp is a maintenance and engineering management consultant and president of the work management division of Westerkamp Group LLC.
Continue Reading:

Plumbing and Restrooms

Restrooms Upgrades Must Consider Coronavirus, Hygiene Issues

Rethinking Restroom Sanitation Practices During the Pandemic

Go Beyond the Basics for Restrooms Products and Processes
---
---
---
Related Topics:
Comments