Drain-Cleaning Tools: Maintenance Considerations
Upgrades of traditional equipment put more power and versatility in the hands of technicians
OTHER PARTS OF THIS ARTICLE
Pt. 1:
New-Generation Drain Cleaning Tools
Pt. 2: This Page
Pt. 3:
A Closer Look: Drain Cleaning and Video Inspection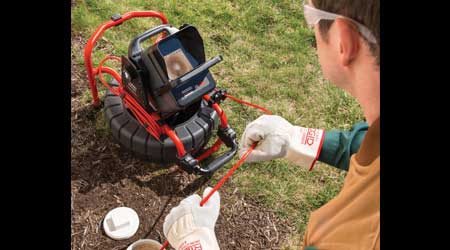 Successful managers know the largest contribution they can make to technician productivity, facility condition, and maintenance efficiency is to make sure technicians have access to up-to-date equipment that is clean, lubricated, sharpened, and in good working condition. A ready arsenal of such equipment, along with trained operating and maintenance technicians, are essential elements in achieving these goals.
Among the questions managers need to answer when considering ownership, care, maintenance, operation and training related to drain-cleaning equipment are these:
• Should I own or rent the equipment? Generally, if drain cleaning equipment is used weekly or even monthly, the manager should plan on buying the equipment.
• How should the equipment be operated and maintained?
• Is all equipment documentation available and readily accessible? In rental situations, the supplier must have trained technicians for this purpose, along with all the necessary documentation, parts lists, instructions for operating, cleaning, lubricating and repair and up-to-date liability insurance coverage.
• Are detailed preventive maintenance checklists available, along with schedules for frequency of maintenance?
• If renting, does the supplier have trained personnel?
• Has the rental agency supplied the buyer with the renter's liability insurance coverage? The rental agency must provide the buyer a copy of the up-to-date liability insurance coverage for personnel, equipment and property damage. Spill kits with all the materials required to clean up the personnel, tools and work site must be easily accessible, along with safety data sheets to comply with workers' right to know.
Complete work order records are essential for managers to make smart decisions on whether to buy or rent drain-cleaning equipment, as well as to ensure good work scheduling, proper staffing, and specifying the type of equipment required for the job. These records contain the type of work done, location, type of equipment used and videos of previous work done. With this information and regularly updated with videos of current work, managers can determine the optimum drain-cleaning frequency and locations, and schedule preventive maintenance more effectively.
Thomas A. Westerkamp is a maintenance and engineering management consultant and president of the work management division of Westerkamp Group LLC.
Continue Reading:

New-Generation Drain Cleaning Tools

Drain-Cleaning Tools: Maintenance Considerations

A Closer Look: Drain Cleaning and Video Inspection
---
---
---
Related Topics:
Comments