Drain Cleaning: Proven Performance
Effective specification of drain cleaning equipment can increase technician productivity and improve plumbing system performance
OTHER PARTS OF THIS ARTICLE
Pt. 1: This Page
Pt. 2:
Drain Cleaning: Knowing Needs
Pt. 3:
Drain Cleaning: Money Matters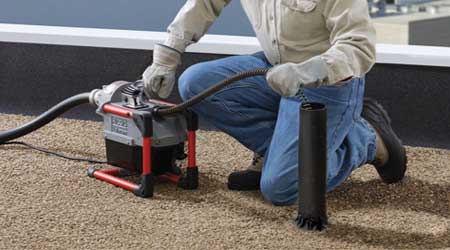 Most maintenance and engineering departments rely on drain cleaning equipment to perform preventive and reactive tasks on sinks, toilets, drains and piping. While technicians might not need the equipment 24/7, it is essential that they have access to the right type of equipment — whether it's a sectional machine, closet auger, snake, or water ram — when the need arises.
Successfully providing technicians with the most effective drain cleaning equipment requires that managers understanding the most common types of equipment, as well as the specific tasks and challenges technicians face.
Eye on equipment
Truth be told, very hot water can be an effective drain trap cleaner when it comes to grease and other soft food waste. This tactic offers the added advantage of less corrosion of fittings and pipes than using drain cleaning chemicals.
When the problem is more challenging, though, managers and technicians have a range of equipment considerations. Manual snakes, snake augers, and cable machines for toilet, sink, and tub traps are the most common mechanical options for more stubborn clogs.
Drum machines, with sectional or continuous cables, are best for hard clogs in longer, small-diameter piping that has turns. Drum snakes are powered by a drill-like motor, a trigger in the handle, a built-in drum in place of a chuck, and enough cable to reach 25-200 feet. Sectional machines or rodders with straight 10-foot sections are best used for hard clogs in large-diameter straight mains that drain many lines into the sewer system.
A high-pressure water jetter for soft clogs is another common type of drain cleaning equipment. These units include a pump, an electric motor or gasoline engine to drive the pump, a hose reel, hose, and nozzles. The high-pressure pump delivers a powerful jet of water through a nozzle to clean drain and sewer pipes. The high-pressure hose is wound on a powered reel that enables the operator to extend and retract the hose for storage. Controlled water pressure and flow volume propel the water jet through the sewer pipe with enough force to break loose and flush away blockages composed of soft material.
A water ram uses a short burst of pressurized water to break up soft blockages in toilets, tubs, sinks, and drains up to 4 inches in diameter. With the built-in pressure gauge, the ram applies just enough pressure to do the job. Special attachments provide a tight toilet bowl seal between the ram and bowl, so full pressure is transmitted through the water to the blockage with no loss of pressure around turns.
Continue Reading:

Plumbing and Restrooms

Drain Cleaning: Proven Performance

Drain Cleaning: Knowing Needs

Drain Cleaning: Money Matters
---
---
---
Related Topics:
Comments