Facility Manager Cost Saving/Best Practice Quick Reads RSS Feed
Painting for Savings: Coating Offers Cooling Properties
November 9, 2020 - Contact FacilitiesNet Editorial Staff »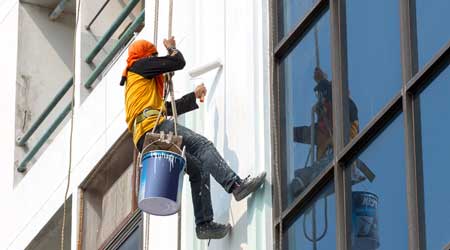 The search for energy efficiency in institutional and commercial never ends. While facility managers continue to focus on the usual suspects — including HVAC and electrical systems — to find and eliminate savings, non-traditional sources continue to offer surprises and potential benefits.
A new type of white paint has the potential to cool buildings and reduce the reliance on air conditioning, say researchers. In a study, the new product was able to reflect 95.5 percent of sunlight and reduce temperatures by 1.7 Celsius compared to the ambient air conditions. The engineers involved say the impact is achieved by adding different-sized particles of calcium carbonate, according to the BBC.
A number of reflective paints have been developed for the outside of homes and offices that would reflect away sunlight and reduce the temperatures inside. As yet, none of these products have been able to deflect enough of the sun's rays to make the building's temperature lower than the ambient conditions. Now, U.S. researchers say they have developed a white paint with strong cooling properties.
"In one experiment where we put a painted surface outside under direct sunlight, the surface cooled 1.7 Celsius below the ambient temperature and during night time it even cooled up to 10C below the ambient temperature," says Prof Xiulin Ruan from Purdue University and an author on the study. "This is a significant amount of cooling power that can offset the majority of the air conditioning needs for typical buildings."
Buildings of all types are one of the biggest sources of carbon dioxide emissions. The lighting, heating and cooling of buildings is responsible for around 28 percent of global carbon dioxide, according to the World Green Building Council. That's because the heating and cooling of buildings is mainly powered by coal, oil and gas. In Europe, around 75 percent of this energy need comes from fossil fuels.
Dan Hounsell is editor of Facility Maintenance Decisions.
---
Comments