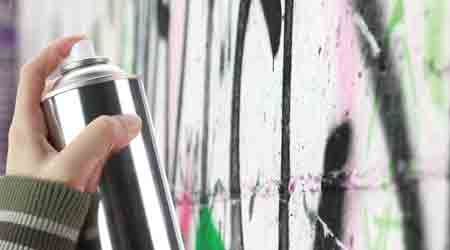 Urethane- and Epoxy-Based Products are Effective Concrete Coatings
Part two of a four-part article on paints and coatings applications
Urethane- and epoxy-based products are effective concrete coatings. One example of popular urethane coating is an acrylic urethane formulation. The qualities of this product include: coverage of 325-425 square feet per gallon; drying time to tack-free of one-two hours; time between application and recoating of four-six hours; the ability to withstand light traffic in 24 hours; and drying to completion in 72 hours. Application methods include a brush, a roller, or a sprayer, and application temperature is between 50-90 degrees.
Acrylic urethane coatings tend to hold up well in mild to moderate conditions. Their volatile organic compound (VOC) content is less than 100 grams per liter, and workers can apply them to concrete and wood substrates. Also, they are typically water-based for easier cleanup and have a satin finish to prevent glare.
A two-part base plus activator epoxy coating is one example of a high-performance polyamine converted epoxy. Typically, this coating covers 40-60 square feet per gallon on concrete or steel when applied at temperatures of 50-100 degrees using a phenolic-core roller. The drying time for use by light traffic is 12 hours, and the full drying time is 72 hours. The coating is solvent based, has up to 250 grams of VOC per liter, and has a matte finish. An anti-skid floor finish additive is available for epoxy coatings. This additive has a silica base suitable for interior or exterior application and dries in two-four hours.
Should managers specify an epoxy or a urethane coating? This decision can be a challenge because the two products have many similarities, and both have two parts as well as beneficial properties related to toughness, impact and abrasion resistance.
On one hand, epoxy coatings are good rust inhibitors and are effective for re-coating lightly rusted steel. But the coated surface tends to acquire a chalky film with long exposure to ultraviolet (UV) rays. The most successful applications for epoxy coatings are indoors where fewer UV rays are present.
On the other hand, urethane maintains its gloss and color under UV exposure, so it tends to be a better choice for outdoor application. Urethane is not a great rust inhibitor, and it tends to work best when applied to aluminum, stainless steel, or titanium substrates. It does not work as well over rusted steel.
Managers should remember that it is a good practice to get material safety data sheets and product specification sheets when specifying these coatings. Products vary by manufacturer, and the technology is continuously improving. Managers can attain the best results by using knowledgeable decision making.
As with any coating products, material costs are a small part of the product's total life cycle cost. The lowest material cost might not give the best results.
Continue Reading:

Paints & Coatings

Trends and Tactics for Successful Paints and Coatings Applications

Urethane- and Epoxy-Based Products are Effective Concrete Coatings

Differences Between Antimicrobial and Antibacterial Coatings

Sidebar: Take Clean, Kill, Coat Approach to Mold and Mildew
---
---
---
Related Topics: