Surface Preparation Dictates Success of Paints and Coatings Applications
Effective paint selection and surface preparation can help managers and crews deliver applications that look good and last
OTHER PARTS OF THIS ARTICLE
Pt. 1:
Planning Paints and Coatings Applications That Deliver Benefits
Pt. 2:
Paints and Coatings Finishes Contribute to Performance, Appearance
Pt. 3: This Page
Pt. 4:
Paints and Coatings: Contractor Considerations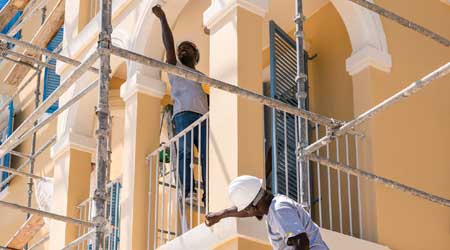 Sto Corp.
The first step to ensuring an attractive, long-lasting paint application is proper surface preparation. Even the highest-quality paint will not perform well if the surface is not properly prepared before painting.
Any surface being painted must be clean and dry. Workers should sand wood surfaces smooth and remove all dust. All bare spots must be primed to seal the wood. New drywall and walls that have been skim-coated must be wiped down and primed. Previously painted surfaces should be wiped down to remove contaminants such as dirt, oils, soap and grease that can interfere with the adhesion of the new paint.
Wallpaper presents a particular challenge to painters. They need to remove all wallpaper, making certain to also remove the adhesive, and wipe down and prime the surface before applying the new paint.
If the surface has a dark color, it is a good idea to prime the surface, particularly if a lighter color topcoat will be applied. Failing to do so might allow pigment from the existing paint to show through. If the surface is not primed first, a second coat of the new color might be required in order to fully cover the old paint.
A glossy finish on an existing surface might interfere with the adhesion of the new paint, resulting in peeling. To prevent this, workers should sand the glossy surface to remove the sheen before applying the new paint.
Proper surface preparation, along with matching the type and sheen of the paint being applied to the particular surface, will help managers achieve excellent long-term results for painting projects while minimizing life-cycle costs.
James Piper, P.E., is a national consultant based in Bowie, Md. He has more than 35 years of experience with facilities maintenance, engineering and management issues.
Continue Reading:

Paints & Coatings

Planning Paints and Coatings Applications That Deliver Benefits

Paints and Coatings Finishes Contribute to Performance, Appearance

Surface Preparation Dictates Success of Paints and Coatings Applications

Paints and Coatings: Contractor Considerations
---
---
---
Related Topics:
Comments