You Might Like
On FacilitiesNet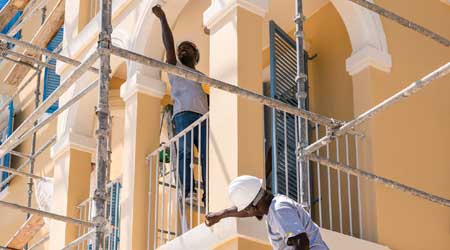 Sto Corp.
Paints and Coatings Finishes Contribute to Performance, Appearance
Effective paint selection and surface preparation can help managers and crews deliver applications that look good and last
Paint and coating finishes range from flat to glossy. Deciding which one to use depends on the aesthetics and the characteristics of the application. The degree of sheen can create visual interest, hide imperfections and protect the paint's finish from use and abuse.
A flat or matte finish is non-reflective, so workers can apply it to hide imperfections in a surface. It is particularly well suited for use on ceilings, where it can hide irregularities and other defects. Touch-ups are easier and less visible with a flat or matte finish than with glossier paint sheens. Its biggest drawback is that it does not resist dirt and staining as well as other paint sheens.
An eggshell finish has a slightly higher sheen level than a flat finish yet is much lower than that of any of the gloss finishes. It performs well in hiding surface imperfections but is easier to clean than a flat finish, and it performs well in areas subject to some exposure to dirt and impact, such as corridors.
Satin has a higher level of sheen than eggshell but still lower than a gloss finish. It is easier to clean than eggshell and still can hide most surface imperfections. It is widely used on walls in such areas as high-use corridors and offices.
Semi-gloss offers a much higher level of sheen. While it is not as good as the lower-sheen paint finishes at hiding imperfections, it offers a higher resistance to staining and is easily cleaned. Some of the more common areas where semi-gloss paint is used include interior and exterior trim, restrooms, and kitchens.
Gloss-paint finishes offer the highest sheen. They have the highest level of hardness and durability and, as a result, are easy to clean. This benefit comes with the tradeoff of being poor at hiding surface imperfections. Their high level of sheen reflects light in such a way that makes any surface imperfection readily visible.
They are used primarily on surfaces that generally do not have a high level of imperfections and require frequent cleaning, such as cabinets. They also are used in applications where designers want to bring out details in the surface, such as with some building trim and doors.
Continue Reading:

Paints & Coatings

Planning Paints and Coatings Applications That Deliver Benefits

Paints and Coatings Finishes Contribute to Performance, Appearance

Surface Preparation Dictates Success of Paints and Coatings Applications

Paints and Coatings: Contractor Considerations
---
---
---
Related Topics: