You Might Like
On FacilitiesNet
Painting Project Cost Considerations
Part 2 of a 4-part article on paints and coatings projects
OTHER PARTS OF THIS ARTICLE
Pt. 1:
Paints and Coatings: Technology Improvements Require More Project Planning
Pt. 2: This Page
Pt. 3:
Interior Painting Project Considerations
Pt. 4:
Exterior Painting Project Considerations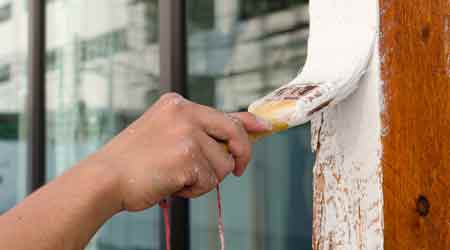 Managers have always been budget-conscious about issues affecting their facilities, and painting projects are no exception. Choosing the wrong paint for the job often results in problems that go far beyond appearance.
"Too often, people think paint is paint and choose the least expensive option," says Jeff Kistler of Rust-Oleum Corp. "It's important to understand that the actual paint only represents 20 percent of the total cost of the project. The other 80 percent is the labor required to complete the project."
"Choosing the wrong coating can lead to higher (preparation) costs, more coats of paint or a shorter service life, leading someone to have to repeat the project sooner than if they had chosen a more durable coating. Identifying what you want the coating to do and in what condition you are applying the coating will determine the right choice, not cost per gallon."
Managers are also encouraged to avoid cutting corners when specifying brushes or rollers for paints and coatings projects. Paint manufacturers recommend looking at product data pages that will specify brushes and rollers to match the paint.
"If (managers) do choose a high-quality paint, often they will underestimate the role of the brush or the roller, and they will use an inexpensive, low-budget quality brush or roller with a high-quality paint, and get a poor-quality paint job because of it," Kujawski says. "A lower-quality brush and roller will not apply the paint to a uniform film thickness, and it won't apply the paint consistently across the wall. They'll end up with a lot of peaks and valleys, and a lot of streaks in the paint. Ultimately, that will lead to premature failure."
Additional factors for exterior applications, including weather, building height, and site obstructions — electrical wires and trees, for example — also can complicate set-up and application, not to mention project cost.
"Painting an exterior building can be much more costly than interior painting due to the surface prep work required, equipment such as scaffolding and ladders, and weather conditions," says Jennifer Burroughs of PPG Architectural Coatings. "While the job can be costly, it is to the benefit of the facility owner to use a high-quality paint that will provide longer-lasting production to reduce labor costs."
Continue Reading:

Paints & Coatings

Paints and Coatings: Technology Improvements Require More Project Planning

Painting Project Cost Considerations

Interior Painting Project Considerations

Exterior Painting Project Considerations
---
---
---
Related Topics:
Comments