Interior Painting Project Considerations
Part 3 of a 4-part article on paints and coatings projects
OTHER PARTS OF THIS ARTICLE
Pt. 1:
Paints and Coatings: Technology Improvements Require More Project Planning
Pt. 2:
Painting Project Cost Considerations
Pt. 3: This Page
Pt. 4:
Exterior Painting Project Considerations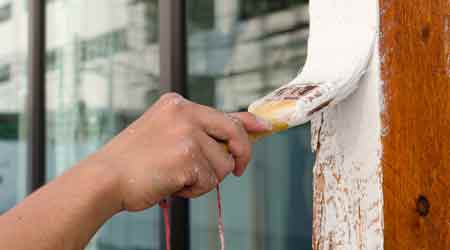 Before embarking on interior applications, crews should perform a complete inspection of the affected area to identify problems and correct them before beginning the application.
"Not being aware of all potential issues on your walls prior to re-painting can cause you to try and retroactively fix an issue, rather than get ahead of any potential problems," says Octave Villar of Behr Process Corp. "The key is taking more time to thoroughly inspect the property before re-painting and spending some time on prep that you can save later on."
Many issues managers and crews need to consider when undertaking an interior project involve drying time and a paint's ability to withstand everyday wear and tear. Paint manufacturers now strive to produce products that are low-odor and have few or no VOCs, which can harm the environment.
"When painting an occupied space, odor can be an issue for the occupants of the building," Burroughs says. "This can be prevented if the facility uses low- or zero-VOC paints, which are low in odor and allow occupied spaces to be painted with little disruption to everyday activities."
Managers must also remember not to treat every indoor area the same.
"In the interior, things like mold and mildew can be a problem," Kujawski says. "If a restroom doesn't have adequate insulation or if it's a hotel on a coastal area that has high humidity, that can be a problem.
"If they use a mold- and mildew-resistant anti-microbial paint, that's going to resist mold and mildew, which is not only unsightly and creates bad odors, but it eats away at the paint film and causes it to deteriorate within 6-12 months of completing a job."
Managers who continue believing mistakenly that all paints are the same are likely to miss the opportunity to specify more durable paints that can withstand, for example, damage inflicted by students who swing and drag backpacks and books, or who vandalize walls by writing or spraying paint on them.
"Walls can take a lot of wear-and-tear and abuse from occupants, so it is important to adjust to products depending on the level of abuse or use," Burroughs says. "One-component epoxy (paint) is ideal for heavy-abuse areas or areas that are subjected to repeated scrubbing and cleaning."
Researching the durability of certain paint products is an important step in the specification process.
Too often, managers "don't know enough about paint, and they end up using regular paint that might be suitable for an office wall, but it's not durable enough for a busy school hallway with kids coming and going with backpacks rubbing up against it," Kujawski says. "It would behoove a maintenance manager to do a little research and make sure they're using the right primer and a product that's appropriate for the area. You wouldn't want to use the same paint on a gymnasium wall as you would the principal's office."
Managers must also consider drying time and facility traffic when scheduling a painting project.
"As a result of odor in occupied spaces, painting projects are often completed in off-hours to assure the occupants are not around," Kistler says. "This can lead to higher costs in having (employees) work overtime."
Continue Reading:

Paints & Coatings

Paints and Coatings: Technology Improvements Require More Project Planning

Painting Project Cost Considerations

Interior Painting Project Considerations

Exterior Painting Project Considerations
---
---
---
Related Topics:
Comments