Differences Between Antimicrobial and Antibacterial Coatings
Part three of a four-part article on paints and coatings applications
OTHER PARTS OF THIS ARTICLE
Pt. 1:
Trends and Tactics for Successful Paints and Coatings Applications
Pt. 2:
Urethane- and Epoxy-Based Products are Effective Concrete Coatings
Pt. 3: This Page
Pt. 4:
Sidebar: Take Clean, Kill, Coat Approach to Mold and Mildew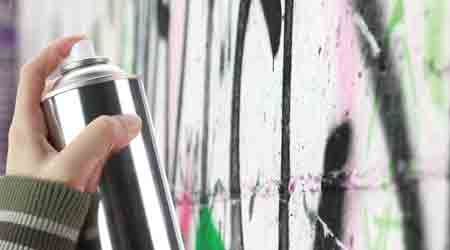 What's the difference between antimicrobial and antibacterial coatings? Antimicrobial agents are toxic to bacteria, viruses, and fungi, while antibacterial agents are effective against bacteria.
Health care facilities are among the most common applications for these coatings, but schools and commercial buildings are increasingly applying these products for applications such as door and restroom hardware to prevent cross-contamination.
Antimicrobial agents destroy or inhibit the growth of microorganisms, especially those that are pathogenic. These coatings contain additives that protect surfaces from odor-causing bacteria, viruses, mold and mildew. Copper-containing compounds — including copper, brass, bronze, cupronickel, and copper-nickel-zinc — have natural antimicrobial properties that eliminate these microorganisms.
Products manufactured with copper-containing finishes and certain polymers have been found to provide protection against E.coli, staph, influenza, and fungi, among other microorganisms. These coatings also are used in powder and spray versions after cleaning in areas such as carpets, wall cavities, crawl spaces, and HVAC ducts that are prone to mold growth.
Antibacterial agents work by preventing initial adhesion of microorganism cells to a surface. One example is anodizing the surface with a finish containing a polymer and calcium phosphate coating containing chlorhexadine.
Managers who conduct careful research before making specification decisions on paints and coatings can realize important benefits. Better products that fit the application well mean lower life-cycle cost, lower labor costs, fewer interruptions of beneficial use of the facility, fewer interruptions of occupants' schedules, and fewer odors and other irritations from paint and coating off-gassing during the drying cycle and beyond. The smart money in paints and coatings applications is on seeking the highest-quality product to produce the longest-lasting application.
Thomas A. Westerkamp is a maintenance and engineering management consultant and president of the work management division of Westerkamp Group LLC, www.westerkampgroup.com.
Continue Reading:

Paints & Coatings

Trends and Tactics for Successful Paints and Coatings Applications

Urethane- and Epoxy-Based Products are Effective Concrete Coatings

Differences Between Antimicrobial and Antibacterial Coatings

Sidebar: Take Clean, Kill, Coat Approach to Mold and Mildew
---
---
---
Related Topics:
Comments